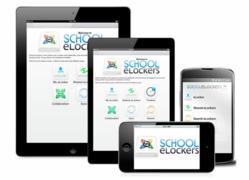 Schools need an easy-to-use solution for sharing and collaborating using post-pc devices - this is what School eLockers provides
(PRWEB UK) 23 November 2012
Schools across the world are exploring how modern mobile technology can support teaching and learning. Specialist Apps is pleased to announce a new Android app for their School eLockers solution giving teachers and students more opportunities to continue learning anytime, anywhere.
School eLockers facilitates sharing, collaboration and assessment in the classroom and beyond using post-PC devices such as the Apple iPad, iPad Mini and now Android devices such as the Nexus 7.
Geoff Elwood, Founder of Specialist Apps, explains
"We've been working with schools that are using mobile devices either as part of a 1-1 initiative, shared class set or even BYOD. What these schools need is an easy to use solution for sharing and collaborating - this is what School eLockers provides. Our new app for Android opens up a wider choice of potential devices to schools."
Using post-PC devices schools can ensure that technology is utilised at the point of learning. School eLockers allows schools to deliver educational content to these devices, while at the same time encouraging discussions, collaboration and formative assessment.
School eLockers features include:
+ Easy to share all types of files and media
+ Unlimited groups and storage let you personalise learning
+ Facilitates formative and peer assessment
+ Drag and drop web interface
+ Suitable for classes and schools of all sizes
+ Drop Folders let students securely submit work
+ Access anywhere and sync for offline
+ Mobile app provides one-touch access and sharing
+ Leave notes on personal files
+ Collaborate with text and audio notes to support different learning styles
+ Easy to implement with minimal professional development requirements
+ User and classes setup via existing school management system
+ A private cloud with localised or off-site hosting means schools know where their student data is stored
The School eLockers mobile app allows users to:
+ Access the files in their personal and shared eLockers from a mobile device
+ Rate and tag items
+ Add text and audio notes to items
+ Capture and share images, video and audio recordings
+ Add and edit documents from 3rd party apps
The new app for Android can be downloaded for free from the Google Play store.
School eLockers is developed by Specialist Apps Ltd. We have offices in Australia, China and the UK where we employ people that are passionate about mobile technology and great customer service.
Contact us today and request a free demo by visiting the School eLockers website or emailing info@schoolelockers.com.
Thanks for your time.