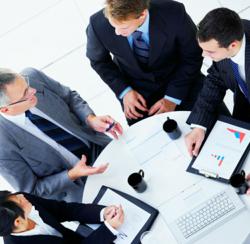 Rob Portwood, Managing Director of Videocall, explains; "This new white paper covers off the primary considerations that need to be followed when planning pervasive, cross company video communications."
London, UK (PRWEB UK) 27 November 2012
White Paper - Dynamic Video Collaboration: Developing the Business Case
The days of videoconferencing being seen as a luxury are long gone. 2012 has been a defining year in companies' attitudes to business videoconferencing which is now seen as a 'must-have'. Business Insider predicts annual tablet sales will explode to 450 million by 2016. A number of major announcements from primary videoconferencing vendors including have resulted in a flurry of analyst reactions from Polycom, Wainhouse Research and Forrester commenting on what will happen next.
So what exactly is going on?
Rob Portwood, Managing Director of Videocall, explains; "The convergence of some significant technology developments with current social economic market trends has resulted in a need for our customers to re-examine the business case for deploying pervasive videoconferencing as a primary communications tool."
New factors include:

Market globalisation which is creating a challenging trading environment for businesses where tightly controlling costs, getting products to market, and making important management decisions even more quickly are seen to be a necessity for staying ahead of the curve;
The influx of consumer mobile applications in the workplace, which is driving up user expectations and demand;
Less money being available for upfront capital investment as company budgets are reviewed;
Companies needing to promote remote video collaboration among employees, customers and suppliers to drive further mandated efficiencies;
And the growing need for individuals to do more with less
Videocall have been watching this dynamic evolution very closely to ensure that customers remain well informed when developing their videoconferencing investment.
Rob Portwood continues "It is so important that we embrace these new major technological advancements with care and detailed insight. We consider it is so important that we have shared our due diligence as to what we consider are the primary considerations and processes to follow when planning pervasive, cross-company video communications in the production of a new white paper."
ENDS
Notes to Editors
Videocall are market leaders in the provision of world class video technology solutions On Premise and in the Cloud. With 15 years in video, they have built up an enviable reputation in providing solutions and advice to companies all over the world. Well known for their commitment to service delivery and innovation, Videocall works closely with global corporations to drive user acceptance of video at all levels within an organisation resulting in proven ROI time and again. As a result of this close working relationship, Videocall were the first to develop an open, standards based, Cloud based video infrastructure which connects video endpoints globally, irrespective of make, type and location seamlessly and efficiently
Learn more at http://www.videocall.co.uk or follow @Videocall_UK on Twitter
If you would like to arrange an interview with Rob Portwood for more customer insight or thought leadership, please contact julie(dot)brightwell(at)videocall(dot)co(dot)uk