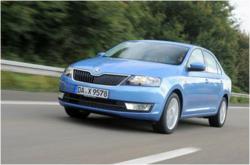 (PRWEB UK) 22 November 2012
Skoda Rapid 1.6 TDI CR SE 105PS DPF
What is it?
THE seventh model in Volkswagen Group's fast-expanding Skoda "value for money" range and the first to express chief designer Jozef Kaban's clean new styling "design language", evolved from the Vision D and Mission L concept cars.
An all-new Skoda Octavia, also incorporating the new design cues, will arrive next year. It will be larger and more up-market than its predecessor, thus making more room for the Rapid to establish what for Skoda is effectively a new market niche.
The Skoda Rapid itself does not quite fit sector conventions, being longer (4.48m) and bigger overall than perceived principal 'budget' rivals such as Kia's C'eed, Hyundai's i30 and General Motors' hatchback Chevrolet Cruze, or even more ambitious targets such as Vauxhall's and Ford's cheaper Astra and Focus versions.
There is a choice of five engines; four petrol and one diesel.
The entry-level, three-cylinder, 1.2 litre older generation petrol unit puts out 75bhp, an unimpressive 139 g/km of CO2 and offers 47.9mpg fuel consumption.
The turbocharged, four cylinder 1.2 and 1.4 turbocharged TSI engines are altogether more attractive. The 85bhp variant of the 1.2 litre offers CO2 of 119g/km and 55.4mpg; the lustier 104bhp version 125g/km CO2 and 52.3mpg. The 121bhp, 1.4 litre petrol model (134 g/km, 48.7mpg) is the only version to offer a seven-speed twin-clutch automatic gearbox; all other models including the fuel-sipping 104bhp,1.6 litre TDi diesel (114g/km, 64.2mpg) are offered with five or six-speed manual gearboxes.
Lower emission "GreenTech" versions will follow next year, dropping the diesel's CO2 to 106 g/km and improving fuel consumption to 70.6mpg. Benefit in kind company car tax ratings range between 14 and 20%.
Residual value specialist, CAP, is forecasting 31-33 per cent residuals after three years, depending on model.
The business use case the Skoda Rapid thus makes for itself is strong, if not quite overwhelming. Skoda executives, while acknowledging that retail buyers will dominate initially, make no secret of their belief that it can push Skoda's total company car and other business user share of sales towards the 40 per cent mark. The model we're reviewing here is the 1.6 diesel Skoda Rapid – the car that's likely to appeal most to company car drivers.
What's hot?
•Crisp, smart external design- the new 'face' of Skoda
•At 4.48m, biggest in the class
•Generous interior space; boot is class-leading
•Interior/dashboard design new plateau for Skoda
•"Simply Clever" convenience features
•Elegant saloon looks but large hatchback accessibility
•Each trim level – S, SE, Elegance - well specified for (low) price
•Frugal, low-CO2 "Greentech" models to follow next year
What's not?
•Fuel economy, emissions good but set no new benchmarks
•Thus BIK not among best
•Diesel not as refined as some rivals
•Diesel driving experience uninvolving; petrol version better
Business Car Manager road test verdict
It was mere coincidence to end up driving examples of the premium small hatchback face of the mighty Volkswagen group, Audi's A3, on one day; the latest of its budget brand equivalent, the all-new Skoda Rapid, just 24 hours later. It was also instructive, if presenting few surprises, as an example of a business user getting what he or she is prepared to pay for.
In comparison with the small Audi, the new Rapid – especially in the 1.6 litre diesel version which forms the main subject of BCM's test - does indeed feel very much built down to a price.
Engine and transmission noise, although far from intrusive, are more noticeable. The interplay between road and suspension is more keenly felt through the body structure.
Ride, steering and handling are supple but, particularly in the case of the diesel, hardly sporting.
But for the truly cost-conscious company car user, the new Skoda Rapid in other important respects leaves its posher cousin for dead.
The entry level Rapid S, with 1.2 litre 75bhp engine, costs £12,900 on the road. Add a few options to the entry level 1.2 litre A3 (albeit with 103bhp) and it is remarkably easy to soar well above £20,000.
Even the accessories-laden, top-range Skoda Rapid Elegance with 105bhp 1.6 turbodiesel presents a bill for a relative lowly £17,850, by when an options-laden 1.6 diesel A3 is scuttling towards £25,000.
Add in a crisp new design theme for Skoda, of which the Rapid is the first example; better than adequate cabin room for up to five; enormous, class-leading 1,490 litre boot capacity with the rear seats folded, thanks to the long, long hatchback of a car which looks deceptively like a four door saloon; some very sensible and convenient gadgetry, right down to an integrated ice scraper (of which Mr editor Morton writes elsewhere – see Company car drivers experience the human touch of Skoda) – and Skoda has come up with an effective challenger to mainstream but more expensive sector rivals like Kia's C'eed, Hyundai's i30 and even Vauxhall's smaller-engined Astras or Ford's Focus.
Indeed, the Skoda Rapid does not even fit the sector's conventions, for at 4.48m overall it is half a size up on them all.
The most sensible, high mileage company car user case is made - just - by the diesel in SE trim level, at £17,100 on the road. CO2 emissions are not spectacularly low at 114g/km, nor indeed is the "C" band VED charge or even the current 16% per cent company car tax rating.
But economy is good at 64.2mpg, P11D price unassuming, and performance adequately brisk thanks to meaty low-down torque. Things will also improve in mid-2013 with the launch of a range of "GreenLine" versions fitted with engine stop/start and other eco-goodies which will bring CO2 emissions as low as 106g/km – although still not enough to drop the Rapid into zero VAT, congestion charge territory.
On the road, the Rapid is relaxed and undemanding to drive until pushed – when clear differences of behaviour emerge between the 85bhp petrol model also tested briefly and the almost 100kg (mainly nose-) heavier diesel.
The petrol unit spins over happily with refinement at high revs and retains a fair degree of agility in harder driver. The diesel can't quite match either, emitting some relatively unrefined grumbles of protest should it be so asked.
Skoda chief designer Josef Kaban's crisply styled and ergonomically efficient cabin, however, is a distinctly pleasant place to be.
The Skoda Rapid looks smart and bodes well for the next-generation, equally all-new and larger Octavia range which will slot in above the Rapid from the middle of next year.
It is also expected to become, and has the credentials to be, Skoda's K best-seller, thus playing a big hand in helping Skoda meet its highly ambitious UK sales growth targets – and providing company car drivers with an economical and efficient car to drive.
Skoda Rapid 1.6 TDI CR SE 105PS DPF – the low down
P11D Value £ 17,045
Monthly business rental (ex VAT) From £250 a month (3yrs/30,000 miles)
Company car tax bands 2012/13 to 2014/15 16%, 17%, 18%
BIK tax £2,727 £2,898 £3,068
Engine 1.6-litre four-cylinder turbo diesel
CO2 114g/km g/km
Power/torque 105 PS/250 Nm
0-62mph 10.6 seconds/118mph
Economy 64.2mpg
Business Car Manager has a variety of useful guides including business car finance, company car news and detailed reviews including Peugeot reviews among others.
For more information, visit Business car Manager at http://www.businesscarmanager.co.uk/.