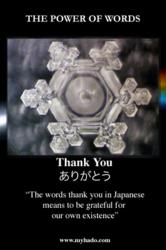 We are beginning to hear the groaning from our tortured planet. We are at a point when we must realize that if we want to continue to call this planet our home, we need to change - not the planet, but ourselves
(PRWEB) November 22, 2012
Most famous for the NY Times Best Seller, Hidden Messages From Water and recently launched Mobile iPhone App MY HADO Master  Hado (energy) and Water researcher, Masaru Emoto gives new meaning to "Thank You".
Thanksgiving is America's single biggest holiday, filled with family and friends, and lots and lots of food. It is the one single day out of 365, that the entire country shares a common Positive Intention. On this day Americans take great effort, often covering great distances, to gather together with their loved ones and show their gratitude by giving thanks for the goodness in their lives. Americans participate in this tradition, with their family to keep it strong, or make it stronger. They do it to hold them together as a group, there is strength and security in numbers. They do it because the intention and words Thank You have actual resonance, on this day. People could all have Thanksgiving dinners across the breadth of the 50 states on different days of the year, but they do it together as a country, because together- the gesture and the words Thank You make one take pause and think about what one has to be thankful for. The gesture is bigger, the resonance is grander. The country needs it. The families need it. Each individual needs it.
Masaru Emoto developed a research experiments to test the actual lasting effects (if there were any) of positive and negative intentions and words. The test itself is genius in it's simplicity, especially when considering the results. Pour two glasses of water from the same source. Talk to and treat one glass with positive words and intention, and the other glass with negative words and intention, distribute the water for observation and freeze.
Under microscopic inspection the results are breathtaking and profound. The water is obviously affected to the point where photographs can be taken and compared. Positive vibrations formed into symmetrical, water crystals, while negative vibrations formed malformed and unsymmetrical if crystals formed at all. These images of water crystal photography made international acclaim, were featured in the film, "What The Bleep Do You Know About It?" and contributed to a more obvious movement toward Global Positive Intention.
December 21, 2012 marks a significant planetary alignment predicted some 26,000 years ago by ancient Mayans with such clarity that pyramids were erected over thousands of years to commemorate the upcoming event. The New Era, sunrise on December 22, 2012 will literally be, the dawn of the Age of Aquarius. The water age. It is not surprising that Hado and Water Research Master, Masaru Emoto will be honored as a guest and participant in this Monumental Mayan Event.
A unique opportunity is still open to learn more and participate personally in this Epic Universal Mayan Event. Masaru Emoto is holding The 15th International Hado Instructor School from  December 15 through 18, 2012 - just days before the epic Mayan Event. Emoto calls on each one of you, in order to pursue a sustainable peace for everyone around the world. Emoto states that the people are beginning to hear and feel the groaning from our tortured planet. The earth is at a point where the people must realize that if the people want to continue to call this planet Earth our home, they need to change - not the planet, but themselves.
America and it's citizens have been hit hard by politics, by nature by our own history. They can't change the past, but they can become honestly aware of the tangible effects their actions, their words and their intentions have on each other and the planet. It's important. People are still held accountable by the words, by the intentions intentions and by the actions actions of our ancestors. There is a commemorative plaque on Cole's Hill in Plymouth, New England. Erected on behalf of The United American Indians of New England. Five sentences sum up more than a hundred years of hostility and misunderstanding. The words have resonance, they are precise and specifically chosen to be succinct and make the clear point. Those words hopefully make one think about what one are thankful for, what one is sorry for and what intentions are going to resonate for hundreds of year's to come."Thank You"