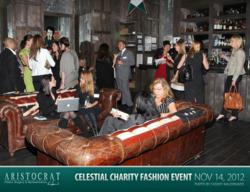 We want to restore the hope and beauty in these peoples' lives, just as we restore the hope and physical beauty of our patients. We believe that this Month of Charity could make a difference
New York City, New York (PRWEB) November 22, 2012
Plastic surgery is not usually associated with charity, but that didn't stop New York plastic surgeon Dr. Kevin Tehrani to organize the Celestial Charity Fashion Event last Wednesday, in the Dream Hotel Downtown. Manhattan. The event had numerous features designed to entertain and reward guests, and it turned out to be a huge success, as guests contributed to more than $5.000 to help fellow New Yorkers affected by Hurricane Sandy's devastating strike.
The success of the event prompted Dr. Tehrani to announce a Month of Charity for Hurricane Sandy Victims, underlining the commitment of Aristocrat Plastic Surgery & MedAesthetics to donate a portion of its monthly proceeds to charity. In addition, to further this goal, the New York plastic surgery is also organizing a Black Friday & Cyber Monday Holiday Special- when buying gift certificates for friends and family, one will receive a gift certificate too, and part of the proceeds of the transactions will go to charity. All proceeds dedicated to charity will be given to the American Red Cross.
"Hurricane Sandy has profoundly affected the lives of many people. We want to restore the hope and beauty in these peoples' lives, just as we restore the hope and physical beauty of our patients. We believe that this Month of Charity could make a difference in the community. " – explains Dr. Tehrani, who has been recently voted as one of New York's top plastic surgeons.
For more information, visit http://www.AristocratPS.com/
###
About Aristocrat Plastic Surgery & MedAesthetics
Aristocrat Plastic Surgery & MedAesthetics offers a broad spectrum of surgical and non-invasive medical aesthetic procedures in two locations in Manhattan, New York City and Great Neck, Long Island. The founder and chief plastic surgeon of Aristocrat Plastic Surgery is Dr. Kevin Tehrani, and a diplomate of the American Board of Plastic Surgery, and one of the top ten New York surgeons, according to Top 10 of New York.