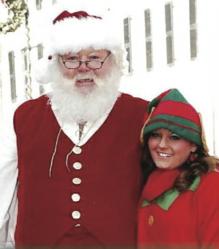 Abingdon, VA (PRWEB) November 22, 2012
Heartwood: Southwest Virginia's Artisan Gateway will serve ho-ho-hoecakes & sausage during the Kringle Mingle Breakfast with Santa, Saturday, November 24 and Saturday, December 15, from 9-11 a.m. After breakfast, Santa will take time to visit with the children through noon. Reservations are required for the family fun breakfast featuring First Lady Mrs. Wilson's Hoecake Mix and sausage for $5.00 per person. Heartwood now carries the hoecake mix, branded under Wytheville's Edith Bolling Wilson Birthplace Museum label.
As our 30th First Lady, Mrs. Wilson can trace her ancestry to Pocahontas. The ninth-generation Pocahontas descendant's closely held hoecake recipe is being made public for the first time. The recipe dates back to a time when the Bolling family gathered for meals in their Wytheville home located on the second floor above the First Lady's Museum. The recipe was a gift from Mrs. Wilson's great nephew, Cary Fuller, who serves on the Foundation's board of directors.
The word hoecake dates back to 1745 and originates from its early methods of preparation by plantation field hands. Made from ground Indian corn, the mixture was cooked on a shovel or hoe over an open flame. Hoes designed for cotton fields were large and flat with a hole through which a long handle would slide. To cook hoecakes, the handles would be removed from the blade, and the blade would be placed over a fire to cook the hoecake as a griddle is used today. Much like a pancake with the added texture of a hint of corn, Mrs. Wilson's Hoecake Mix consists of four ingredients — cornmeal, unbleached flour, baking powder, and salt.
Heartwood is located at Exit 14 on I-81 in Abingdon. Reservations to the Kringle Mingle Breakfast with Santa are required and can be made by calling (276) 492-2400.