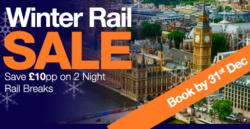 (PRWEB UK) 23 November 2012
Superbreak, the UK's leading short breaks provider, has announced the launch of its brand new Winter Rail Sale promotion, offering customers an exclusive discount on all rail breaks booked between now and the end of the year. The short breaks specialist is hoping that reduced rail offers will prove to be an even more enticing reason for customers to book a trip away this winter.
The York based travel operator has reduced all the prices of its popular two night rail breaks by £10 per person. In order to receive this deduction, customers must book before December 31st. As a direct result of partnerships with rail providers and hoteliers alike, the online travel operator can offer a wide and varying range of locations and hotel packages, including London, Edinburgh and York.
Superbreak's strong customer base along the East of the UK has resulted in a large uptake in bookings for East Coast Rail breaks. London has proved to be the customers' destination of choice with 59.7% of rail break bookings being for the capital over the last 4 weeks. The ever-flexible booking process on the Superbreak.com website allows for customers to tailor their perfect short break, giving them the option to add extras such as attraction tickets and Oyster cards. A 2 night London rail break including return rail travel and a choice of central London hotels starts from just £84pp.
The travel operator has recently seen an increase in popularity for Virgin Trains Rail Breaks. Thanks to this partnership, Superbreak can offer customers hotel and rail inclusive breaks from locations such as Manchester, Liverpool, Preston and Birmingham. This venture has provided Superbreak with the chance to meet demand and open up its great value real deals to customers along the West Coast mainline.
With the festive period fast approaching, customers are taking advantage of the opportunity to take a short break. As the traditional Christmas Markets are set to open across the UK and attention turns to Christmas shopping, a city break is proving to be the perfect chance for customers to get into the festive spirit. So far November is proving a popular time for Superbreak customers to take advantage of a travel inclusive break, with many opting for the convenience of rail travel throughout the winter months.
Regarding the impact of the Winter Rail Sale, Khalid Amin, Online Marketing Manager commented "Our rail breaks offer customers great value for money all year round and since launching the rail sale we have seen a healthy uptake in sales. We are very proud of our fantastic relationships with the major UK rail operators and once again our customers are enjoying the benefits of these unique partnerships."
About Superbreak:
Superbreak is the internet division of Superbreak Mini Holidays Limited, the market leader for short breaks and hotels throughout the UK and beyond, including hotels in Edinburgh and London to Paris and even Dubai. Superbreak is part of Holiday Break plc. Based in York, England, Superbreak specialises in booking city breaks in 2-5 star hotel accommodation throughout Britain for the leisure traveller. Superbreak also work with various travel providers offering a range of rail breaks, P&O mini cruise breaks, flights & more.
With 5000 plus hotel partners in worldwide locations from Manchester to Brighton, from London to Paris and with great availability and rates for theatre breaks, events at the O2 Arena, various popular attractions and national and international rail partners, Superbreak can offer an outstanding depth and breadth of UK and Overseas short break products.
Note to Editors
We authorise the republication of this content with the condition that a link to Superbreak is included: http://www.superbreak.com