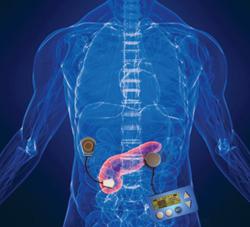 Many patients who have CGM devices as part of their insulin pumps are not taking advantage of the CGM function due to limited reimbursement rates.
Vancouver, BC (PRWEB) November 27, 2012
According to a new report by iData Research Inc. (http://www.idataresearch.net), the leading global authority in medical device and pharmaceutical market research, the European market for diabetes diagnosis, treatment and drug delivery is expected to reach almost €8 billion by 2019. Changing reimbursements policies and new products such as insulin pumps and an artificial pancreas system are shaping this growing market.
Approval of New Insulin Pump Types to Fuel Pump Market Growth
There are three main methods for insulin delivery; insulin syringes, insulin pens and insulin pumps. In Europe, insulin pens dominate the insulin delivery market, with approximately 90% of the insulin dependant population using pens in most countries. Traditional insulin pumps have been available in Europe since the late 1970's, however adoption has been slow due to lack of education and poor reimbursement rates.
New products are emerging within the insulin pump market, and are expected to fuel growth over the next decade. These devices are more user-friendly, do not require use of infusion sets, and in some cases, do not require a battery or use of electronics. Patch pumps include a pod component which contains insulin, and a controller, also known as personal diabetes managers (PDMs). This allows users to program continuous insulin delivery rates, program options for bolus rates and perform safety checks to ensure patient safety. The Omnipod™ from Ypsomed is currently the only patch pump commercially available in Europe, however additional products from other manufacturers have received their CE Marks, and are expected to be sold in various European countries next year. These products from companies including Cellnovo and Roche will likely enter at a similar price point.
Simple pumps are not yet approved for sale in Europe. Simple pumps, also known as simple infusers or disposable pumps, offer continuous insulin deliver through a small device worn directly on the patient. These pumps are not electronic and deliver set amounts of insulin with the push of a button located directly on the device. Pumps may be worn for one to three days depending on the manufacturer. The V-Go™ from Valeritas received their CE Mark and is expected to begin commercialization by 2013. Devices from Calibra and CeQur are also expected to enter the market by 2019.
These devices are also expected to target the rising insulin dependant type 2 population. "This group has not traditionally used pumps," explains Dr. Kamran Zamanian, "however the user-friendly features of simple pumps, and levels of insulin delivery available are likely to attract new type 2 users."
Medtronic, Dexcom and Abbott Push Benefits of Continuous Glucose Monitoring Despite Low Reimbursement
The European market for continuous glucose monitoring (CGM) is still in its infancy, and many patients are unaware of the benefits of CGM. Although there is high interest in CGM in Austria among patients and hospitals, adoption is still limited. In response, Medtronic, Dexcom and Abbott have put efforts toward increasing awareness through education and marketing. Additionally, more reimbursement rates are expected to be approved over the next few years, which will also lead to more rapid adoption of CGM technology.
The majority of European countries, including the U.K., Spain and Portugal, do not reimburse for CGM, which has limited device uptake. Moreover, the majority of CGM systems sold are to hospitals. "This is primarily due to the high cost of systems, and the lack of awareness regarding the benefits of CGM among the general population," says Dr. Zamanian. "In addition, many patients who have CGM devices as part of their insulin pumps are not taking advantage of the CGM function due to limited reimbursement rates." Utilization rates among patients in the hospital are much higher.
Successful Trials Promote Artificial Pancreas Development in Europe
The mechanical artificial pancreas is not yet approved for use. An artificial pancreas is a mechanical system that consists of a continuous glucose monitor, a computer controller and an insulin pump system. These three components work as a closed-loop system: the glucose sensor transmits data to the computer, which then calculates the appropriate amount and rate at which insulin should be delivered. This information is then transmitted to the insulin pump, which delivers insulin.
Developments based in Europe include work by a group of academic and industrial partners called AP@home. Their goal is to develop an artificial pancreas (AP) that would allow automated glucose control for people with insulin treated diabetes. The proposed system would combine a continuous glucose monitor, infusion pump and a software algorithm that calculates how much insulin to deliver at any time in response to the blood glucose level. The project is funded with a €10.5M grant from the European Commission's Framework Programme 7.
Meanwhile, in October 2011, the Juvenile Diabetes Research Foundation (JDRF) successfully completed a study with two patients with type 1 diabetes. These patients attained near-normal glucose levels after spending one night outside of a hospital while their diabetes was automatically managed by a prototype artificial pancreas system. These studies represent the first outpatient trials using an approach developed by the JDRF-supported International Artificial Pancreas Study Group.
Additional Information is Available
Register free online for a complimentary Executive Summary from a detailed and comprehensive report published by iData Research (http://www.idataresearch.net) entitled The European Market for Diabetes Diagnosis, Treatment and Drug Delivery. Information gathered for this report includes Austria, Belgium, Denmark, Finland, France, Germany, Italy, Luxembourg, Netherlands, Norway, Portugal, Spain, Sweden, Switzerland, and U.K. To receive updated reimbursement policies weekly, please contact tracker(at)idataresearch(dot)net
About iData Research
iData Research is an international market research and consulting group focused on providing market intelligence for medical device and pharmaceutical companies. iData provides actionable market intelligence in: cosmetic surgery, facial aesthetics, medical lasers, orthopedics, cardiovascular, dental, endoscopy and more.