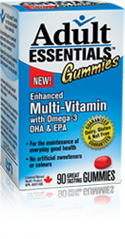 Studies show that significantly fewer men than women take daily vitamin supplements, 32.2% compared to 48.1% for women.
Burlington, Ontario (PRWEB) November 27, 2012
"But I don't LIKE taking vitamins!" doesn't sound like the type of thing you'd expect to hear from a fully-grown man who lifts heavy objects and unplugs overflowing toilets without complaint. But that's exactly the reason Adult Essentials is the success it is today: Dads don't like taking vitamins.
Studies show that significantly fewer men than women take daily vitamin supplements, 32.2% compared to 48.1% for women according to the Canadian Journal of Public Health. A 2012 Health Canada study showed that Canadians in general aren't consuming adequate amounts of healthy foods to obtain their recommended daily intake of vitamins and minerals, which makes Dad skipping his daily vitamins a problem.
The reason nutritionists recommend a multivitamin for men is that Dad not getting his daily dose puts him at risk for serious health problems, including heart disease, and certain types of cancer. Not to mention current studies are underway to assess the connection between the healthy eating habits of fathers on their children.
Taking Omega 3 fish oil supplements helps Dear Old Dad reduce inflammation, lower risk of chronic diseases and improve memory function. As he ages, Dad should be taking a Vitamin D supplement, another vitamin Dad is deficient in, to prevent osteoporosis.
"The study matches what we hear from our customers. Dads don't like taking their daily vitamins," says Deb Lowther, Social Media and Customer Connections for Life Science Nutritionals, the maker of IronKids and Adult Essentials. "Many adults find it difficult to swallow large or chalky pills. Others just plain don't like it."
It all started with the idea of making an Omega 3 supplement that children would actually take. Today, the popular IronKids Gummy Vitamins are the top selling Omega 3 supplement for kids. Based on the success of the Award-winning IronKids Gummy Vitamin product line, Life Science Nutritionals launched the Adult Essentials product line, including an Omega 3 supplement.
"We knew we were onto something after IronKids had been on the market for a few years," says Lowther who was constantly asked when they were going to make a gummy vitamin for adults. "Our customers were telling us how much they loved the IronKids Gummy Vitamins because it made it so much easier to get their kids AND their husbands to take their vitamins."
"Had the vitamins not been in gummy form, I can assure you that I would have stopped taking them, just like every other time I've tried to start a vitamin routine," says Chris Read, a Dad blogger who participated in an Adult Essentials Dad vitamin challenge. "I implemented an exercise routine at the same time as I started taking [vitamins], but it was due to the challenge that I started exercising, so that should bring it full circle in crediting Adult Essentials for the motivation."
So for all the Dads out there who avoid taking vitamins, take another walk down the vitamins isle and give great tasting, Canadian-made Gummy Vitamins a try. You might be motivated to stick to a vitamin routine this time and find the energy to be more active!