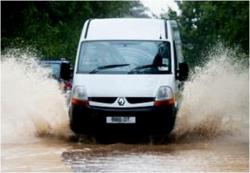 (PRWEB UK) 22 November 2012
BRITAIN'S weather has always been unpredictable. And whether or not the UK are experiencing greater extremes of late remains a matter for debate.
But there's no questioning the fact that severe bouts of heavy rain have led to flooding in parts in the country, and driving in such conditions greatly increases the dangers of loss of control and collisions through reduced visibility.
Road safety charity the IAM has the following advice for drivers in response to the recent severe weather warnings for heavy rain and wind:
•Set the heater/demist controls before setting off. Rain can cause windows to mist quickly and nobody should be fiddling with controls when they should be concentrating on the road
•Slow down. In the rain a driver's stopping distance can be at least doubled. And giving themselves more space helps them to avoid spray, especially when following a large vehicle
•They should concentrate on the road ahead and plan their driving so they can brake, accelerate and steer smoothly – harsh manoeuvres will unbalance their van or pick-up
•Strong winds can easily unsettle one's vehicle – especially large, high-sided vans. Strong gusts can even change their direction of travel. Drivers should keep a firm grip on their steering wheel and be aware of the effects of the elements on fellow road users, particularly motorcyclists and other flat-sided vehicles
•Cruise control should not be used on wet roads. It might compound problems caused by aquaplaning
•See – and be seen. Use lights: as a rule, whenever a driver needs to use their wipers they also need to turn on their headlights. Before overtaking, they should put their wipers on their fastest setting.
Flooding presents its own problems and where flooding is severe, they should reconsider whether they should make the journey at all. If they have to drive through deep water, they should take the following precautions:
Drive on the highest section of the road but don't set off if a vehicle is approaching
Allow time and space to ensure they don't swamp other cars or pedestrians
If they are unable to see where their vehicle is going to come out of the water, such as when approaching flooding on a bend, they shouldn't drive into it until they can be sure they are able to exit safely
While driving in deep water they should never take their foot off the accelerator, as this could allow water to travel up the exhaust pipe Once they're clear of the water, they should dry their brakes before they need them by lightly applying the brake for a few seconds as they drive, having checked nothing is following too closely.
IAM chief examiner Peter Rodger told Business Vans: "A suddenly very wet road surface increases the chances of slipping when braking or steering, which is a problem not just for motorists, but cyclists and motorcyclists too.
"When driving your business van in wet conditions remember that stopping distances will increase, and visibility will be reduced. Drop your speed and give yourself more time to slow down."
Keep up to date with developments in our Business Van News section.
Business Vans offers a wealth of useful information including tacographs, van MOTs and a range of reviews including Hyundai van reviews.
For more information, visit Business Vans at http://www.businessvans.co.uk/