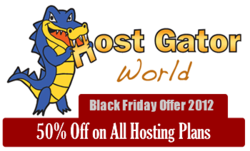 Lasting just 24 hours, the 50% discount is once-a-year offering and budding webmasters will definitely get excited with such pricing.
Houston, TX (PRWEB) November 23, 2012
As part of their annual Black Friday discounts, one of the world's leading web hosting services - Hostgator, has announced their latest offering for 2012. A flat 50% discount on all web hosting packages which include shared hosting, dedicated hosting, reseller, and VPS hosting.
With the increasing number of people wanting to start their own web based business or just blogging-for-fun, the competition has been intense in the web hosting space. Anyone who wants to start their own branded website definitely needs to get some sort of hosting plan to get their website live on the internet. The days of free hosting, and blogging on blogger.com are surely depleting by the day.
Founded in 2002, Hostgator has evolved into one of the leaders in the web hosting industry and as per current stats they are hosting a massive number (8 Million) of domain names on their data centers. Easy and affordable hosting powered completely by wind energy, they have their sights set on becoming the #1 hosting provider at least among the shared hosting competition.
With the number of competing hosting companies increasing by leaps and bounds, it gets complicated for people who want to get started with their website as fast as possible. To choose or not to choose, that is the question. Hence a number of review and coupon websites have come up over the years which guide people on the pros and cons of each web hosting company.
One such website is Hostgator World, which has was started in 2008 and houses several real customer reviews and some excellent support guides to help Hostgator customers make the best use of their hosting.
Black Friday often marks the start of festival shopping throughout the United States, and the discounts offered by Hostgator, which although will be live for just 24 hours, will definitely help budding entrepreneurs and web masters get started with their websites quickly, easily, and affordably.