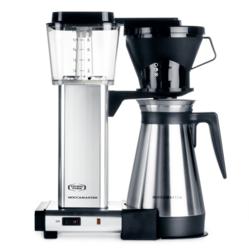 Only one coffee maker stood out in our tests as exceptional. The Technivorm Moccamaster.
Edmonton, Alberta, Canada (PRWEB) November 27, 2012
Holiday gift guides are some of the most widely read news and web articles this time of year, and no list would be complete without at least one exceptional coffee appliance. Here are the top picks for quality-minded Canadian coffee lovers this year. All the year's top coffee picks are available from Canada's coffee experts at transcendcoffee.ca
Technivorm Moccamaster
These automatic drip coffee brewers, hand-made in the Netherlands, are consistently rated by industry professionals as one of the very best coffee makers in the world. There are three reasons why: they brew hotter, brew faster and are better made than just about any other brewer on the market.
Cooks Illustrated tested a number of brewers and concluded: "Only one coffee maker stood out in our tests as exceptional. The Technivorm Moccamaster (model KBT 741), Made in the Netherlands consistently brewed smooth, full-flavoured coffee that our tasters ranked highest."
The Technivorm Moccamaster KBT 741 retails for CAD $299 and is distributed in Canada by Transcend Coffee.
Bonavita Thermal Brewer
The Bonavita is another top pick for home coffee makers for its excellent brewing capabilities, stylish compact design and affordable price (CAD $149). Like the Technivorm, Bonavita is one of only a very few coffee brewers to receive certification from the Specialty Coffee Association of of America (SCAA). The SCAA has very high standards that must be met for coffee makers including the correct water temperature, contact time, and extraction rate.
Baratza Coffee Grinders
Coffee experts agree that an excellent, consistent coffee grind is even more important to final cup quality than the brewer. Baratza has been a top brand for quality coffee grinders since its inception in 1999. Offering a wide variety from the entry level home burr grinder, Encore (CAD $149), the mid-range Virtuoso (CAD $249) and the high-end Vario (CAD $489) featuring micro and macro adjustments and a premium ceramic burr set.
Breville Dual Boiler Espresso Machine
For the home espresso junkie, cafe-quality cappuccinos and lattes are now attainable with the Breville Dual Boiler. In order for espresso to taste great, consistent and precise control of temperature and pressure is key. The dedicated electronic PID controlled espresso boiler is adjustable (190°-205°F) for different bean roasts and origins. A separate steam boiler offers instant and powerful steam on demand, meaning you can extract your shot while simultaneously steaming your milk to cafe quality.
The Breville Dual Boiler retails for CAD $1,099 at http://www.transcendcoffee.ca
Coffee Subscriptions
Of course if a shiny new coffee gadget is on someone's shopping list, then it only makes sense to pair it with amazing coffee. Coffee subscriptions or "coffee of the month" plans are growing in popularity and are offered by many smaller micro roasters. Plans often include a choice between one bag or multiple bags per month, drip coffee or espresso.
About Transcend Coffee
Transcend Coffee is a specialty coffee roaster, online retailer, and coffee educator operating three cafés in Edmonton, Alberta Canada. Their goal is to roast and serve the very best specialty coffee in Canada, and to educate coffee drinkers about the art and craft of specialty coffee.