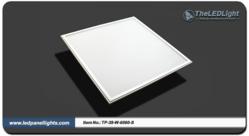 (PRWEB) November 23, 2012
Recently, The LED Light (China), a professional manufacturer of LED products,introduced its Christmas LED Promotion with a Big Discount, up to 30% off. This collection consists of all its LED light panel products, and is valid from Nov. 20 to Dec. 30, 2012. All the old and new customers can enjoy the discount.
"The Christmas and New Year 2013 are coming, and they are the most important festivals for every business. We hope we can expand our business and maximize our market potential in the coming 2 months. In addition, it is time for us to acknowledge our customers." Said, Afanso Yang, CEO of this company.
The products from The LED Light (China) are especially designed to meet the requirements of energy saving and environment protection. They use best LED components from the global brand suppliers, and their products are always regarded as "the most cost-effective LED panel light" by quite some LED distributors in the market.
"Our products are suitable for office, shopping mall, living house, art gallery and museum, where it needs a reliable, elegance, and energy-saving lighting effect." Said, Afanso Yang.
The LED Light (China) has promised to spare no energy to provide rich LED panel products for costumers as well as fast delivery. They have organized a strong team of product development and production management. Afanso Yang stated, "The online market is the most important market for our company. We hope customers can enjoy our products and services as before."
More details about the Christmas LED Promotion can be found at: http://www.ledpanellights.com/