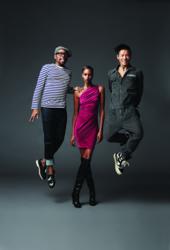 Toronto, ON (PRWEB) November 26, 2012
eLUXE is thrilled to announce its first ever holiday campaign, Jump For Joy, in celebration of holiday 2012. As a twist, hop, skip and a jump, on the fashion message this holiday season, eLUXE invited some of Canada's key influencers to participate in this editorialized campaign that celebrates the wonder of the holiday season.
The beautifully designed editorial was shot by renowned photographer Gabor Jurina and styled by eLUXE Fashion Director Susie Sheffman, who poses the question "What brings you joy this festive season?" to our favourite Canadian designers, entertainers and fashion heroes, including:
Yasmin Warsame (Model)
Greta Constantine's Kirk & Stephen (Designers)
Stacy Mackenzie (Supermodel and TV Personality)
Amy Jo Johnson (Actress)
Gee Beauty, Natalie, Stephanie and Celene (GEE Beauty)
Randi Bergman (Online Editor, FASHION Magazine)
Joanna Track & Teddy (eLUXE CEO & Founder and son)
Heather Ogden (Principal Dancer, National Ballet)
Rebekah Price (Creative Director of Rebekah Price Designs)
Jenny Bird (Creative Director at Jenny Bird)
Rebecca Eckler (Author and Journalist)
The Jump For Joy digital book can be found on http://www.eluxe.ca/jumpforjoy and in print at select locations; Uber black cars, Gee Beauty Toronto, and more.
For media inquiries or interviews, please contact:
Amina Said
PR Manager
asaid(at)eluxe(dot)ca
416-977-3325 ext. 215