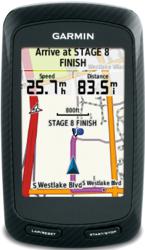 The next time you'll see it this cheap is when Garmin discontinues it and that might be a while
Bozeman, MT (PRWEB) November 23, 2012
The Heart Rate Watch Company will be selling the Garmin 610 for $100 off and the Garmin Edge 800 for $150 off for Black Friday, but the deal will last through Cyber Monday as well according to company spokesperson Tarie Beck.
"This is such an awesome deal that there has never been a better time to buy a Garmin 610 or Edge 800", says Rusty Squire, President of the Heart Rate Watch Company. He adds, "These are two of the crown jewels of Garmin's product line for runners and cyclists, so if you have been on the fence this is the time to make your move".
The Garmin 610 was the world's first-ever touchscreen GPS watch for running and cycling, plus it works for nearly all outdoor sports except swimming. "This was my favorite GPS watch for 2011 and was on my top 3 list for 2012", says Squire. He adds, "The next time you'll see it this cheap is when Garmin discontinues it and that might be a while".
The Garmin Edge 800 set the standard for a bike computer and for turn-by-turn navigation there is nothing else that even comes close according to Squire. "It's less than half the size and weight of an iPhone, has more accurate GPS and leverages Garmin's strength and database", he says.
Heart Rate Watch Company is also giving all customers two free fitness books valued at $50 - "How To Successfully Use A Heart Rate Monitor" and "How To Elevate Fitness With Strength and Interval Training".
"Starting today you've got 10 days to save $100 on Garmin Forerunner 610 and $150 on Garmin Edge 800, so shop early for that athlete on your list because by December 3rd - it's over", says Squire.