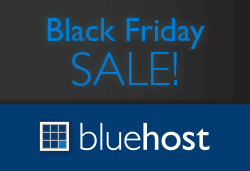 Bluehost Offering $3.95 Black Friday Promo Pricing!
Provo, UT (PRWEB) November 22, 2012
Bluehost, a Provo, Utah based company has announced that it will participate in black friday and offer customers a special promo rate on their web hosting. Using the special Bluehost Black Friday promo link below users will be able to purchase a Bluehost web hosting account for only $3.95 a month! This is a savings of $2 per month from their normal rate!
This special rate extends through Cyber Monday so be sure to take advantage of it right away!
Click here to enable the Bluehost Black Friday discount!
Bluehost is ranked the top web hosting provider by AlreadyHosting.com, and offers their users unlimited bandwidth, unlimited disk space, and a free domain name for only $3.95 a month! Bluehost is known for their world class (English Speaking) customer support.
If you would like to read more information on this offer please visit:
http://www.alreadyhosting.com/blog/2010/11/bluehost-black-friday-special-3-95-a-month/