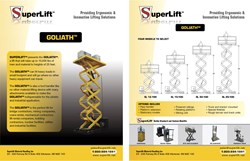 Kitchener Ontario (PRWEB) November 28, 2012
Superlift Material Handling has been building custom lifting devices including stainless steel manlifts and lift trucks for the food, pharmaceutical and chemical industries for over ten years.
Superlift now offers the Goliath, self propelled lift that is a combination manlift and vertical material lifts that can be used on sites to lift heavy loads up to 10,000 lbs to 26 feet in a very small foot print. The Goliath will go where no other crane or forklift will travel and raise its heavy load up to 26 feet of vertical height. Perfect for industrial contractors, riggers, mechanical contractors, highway contractors, the unit is fully drivable and has a working height of 31 feet for men and material to be lifted into position. Pipe holders, rotating platforms and extendible railing are some of the many options available for this multi purpose lift.
Superlift is a full line provider of custom manlifts for many industries and can design and supply any manlift for the most demanding application. See the video of Goliath at Superlift.net and call Superlift today for all of your special application lift equipment requirements.