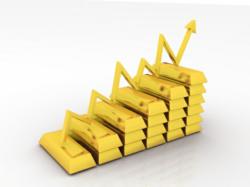 The spot price of gold has been going up on a weaker U.S. dollar, which has been going down because of worries regarding the global economy.
New York, NY (PRWEB) November 23, 2012
In a recent Profit Confidential article, contributor and financial expert Mitchell Clark reports that Wall Street analysts recently increased their earnings expectations for industry benchmark Yamana Gold in 2013. Clark notes that Yamana has followed spot gold in its turnaround since August, and since then, this well-managed gold producer is up five full points and currently boasts a price-to-earnings (P/E) ratio of approximately 40. (Source: Yahoo! Finance, last accessed November 21, 2012.) However, according to the Profit Confidential expert, Yamana Gold, like other gold stocks, is waiting on a rising spot price to break out.
"The spot price of gold has been going up on a weaker U.S. dollar, which has been going down because of worries regarding the global economy," says Clark. But he notes, "… A lot of gold stocks recently hit a wall, not just because of stalling of the spot price of gold, but because of their valuations."
In the article "The Biggest Stock Market Winner Going Forward," Clark points out that the big thing with gold stocks is that no matter how good the story is or how much an earnings report beats the Street, gold stocks don't really go up unless the spot price of gold is doing so.
"No matter what happens to the U.S. economy going forward, the fundamentals for gold support a rising spot price environment," notes Clark. "Sovereign debt, a weaker U.S. dollar, increasing money supply, massive deficits—[whatever] the risk, gold is the natural beneficiary."
However, he states that investment risk is always high when dealing with commodity-related securities.
For the passive investor who wants exposure to gold, but not individual company risk, the Profit Confidential expert suggests that exchange-traded funds (ETFs) or gold trusts make the most sense; however, he states that a balanced equity portfolio should already have some exposure to gold, either through individual gold stocks, a fund, or an ETF.
Profit Confidential, which has been published for over a decade now, has been widely recognized as predicting five major economic events over the past 10 years. In 2002, Profit Confidential started advising its readers to buy gold-related investments when gold traded under $300 an ounce. In 2006, it "begged" its readers to get out of the housing market...before it plunged.
Profit Confidential was among the first (back in late 2006) to predict that the U.S. economy would be in a recession by late 2007. The daily e-letter correctly predicted the crash in the stock market of 2008 and early 2009. And Profit Confidential turned bullish on stocks in March of 2009 and rode the bear market rally from a Dow Jones Industrial Average of 6,440 on March 9, 2009, to 12,876 on May 2, 2011, a gain of 99%.
To see the full article and to learn more about Profit Confidential, visit http://www.profitconfidential.com.
Profit Confidential is Lombardi Publishing Corporation's free daily investment e-letter. Written by financial gurus with over 100 years of combined investing experience, Profit Confidential analyzes and comments on the actions of the stock market, precious metals, interest rates, real estate, and the economy. Lombardi Publishing Corporation, founded in 1986, now with over one million customers in 141 countries, is one of the largest consumer information publishers in the world. For more on Lombardi, and to get the popular Profit Confidential e-letter sent to you daily, visit http://www.profitconfidential.com.
Michael Lombardi, MBA, the lead Profit Confidential editorial contributor, has just released his most recent update of Critical Warning Number Six, a breakthrough video with Lombardi's current predictions for the U.S. economy, stock market, U.S. dollar, euro, interest rates and inflation. To see the video, visit http://www.profitconfidential.com/critical-warning-number-six.