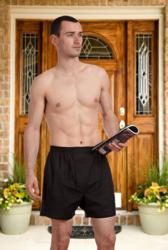 Columbia, SC (PRWEB) November 24, 2012
The makers of a better pair of men's underwear with a new, innovative style from Ubatuba Boxer Shorts would like to introduce an item that men really need and want, the patented design of Ubatuba boxer shorts which has an off-center fly and a three ply front.
Here are the unique attributes of Ubatuba Boxer Shorts:
The off-center fly is absolutely necessary for the man who likes to walk around the house in his boxers as there is no more fall-out. Now wives and the kids will not accidently see any of dad's special parts. Men can now walk around the house; even go to the mail box in their Ubatuba's without the worry of anything peeking out.
Ubatuba's unique three ply front is very use full for men after any restroom trip.
It has been found that after the "shake" men just toss "it" back in, zip up and head to the sink to wash the hands. But what often times can occur during that short walk to the sink is that a muscle in the tip will relax, when it should not, and about 12 drops may come out. Now without the triple thick front of Ubatuba, the drops will cause a small spot on the trousers.
Now what is one to do? Well, what has been witnessed in the restroom are the following:
1. The rub real hard and quick with paper towels, trying to get the heat of the friction to evaporate the spot.
2. The stand in front of the hand dryer with the pelvis pushed forward to get the right angle for best evaporation.
3. The un-tuck the shirt, hoping that it is long enough to hide the spot.
4. This one is a favorite, The pretend that there were no paper towels in the restroom, so you had to just dry the hands on the front of the pants; this camouflages the wet spot.
5. This is the worst one of all, to unknowingly walk out of a restroom with the wet spot on the crotch area of the trousers and back to the table.
Very few people will say anything, and if one were to say something, what exactly would they say? This is why all men should wear Ubatuba brand boxer shorts from Ubatubaboxershorts.com as there will be no need to worry about this.
In making a complete pair of boxer shorts with function, Ubatuba also has added a small inside pocket, perfect for tissues, condoms credit cards etc. And to continue in making a functional pair of boxers, Ubatuba also has a three panel back. This greatly reduces wedgies. Add 100% soft cotton and Ubatuba are the boxer shorts of the future. From Ubatubaboxershorts.com