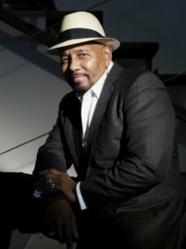 Santa Fe, NM (PRWEB) November 22, 2012
Aaron Neville is on tour this holiday season with his Quintet performing classic Christmas songs, selections from Aaron's newest Gospel release "I Know I've Been Changed," as well as hits from throughout his career. Santa Fe, NM, is one of the tour stops for Mr. Neville and the singer is set to grace the stage of The Lensic, from 7:30 to 10 p.m., Monday, Dec. 10, 2012. Santa Fe's premier on-line visitor guide SantaFe.com features this evening at The Lensic on the website's event calendar.
In the opening notes on 'I Know I've Been Changed', the artist known to millions of devoted fans worldwide as Aaron Neville stands before the microphone not as a musical legend, but as an ordinary man appealing to an eternal God. On this recording Mr. Neville's signature vibrato rises and dips in a musical prayer full of passion, utterly sincere. It is perhaps the most powerful moment on a uniquely moving album — Neville's first gospel recording since Hurricane Katrina ripped through the singer's cherished city of New Orleans, destroying Mr. Neville's personal home, and forever altering so much of the singer's life. Despite that tragic backdrop, the project plays not as a mournful reflection, but rather as a hopeful celebration of the three things that have shaped Aaron Neville most of all---the singer's hometown, music and faith.
In grand New Orleans style, 'I Know I've Been Changed' celebrates Aaron Neville's 50th year in recorded music. The album brings the artist's career full circle, returning him to the music he loved first---gospel music---and reuniting Mr. Neville with Allen Toussaint, the legendary songwriter, musician and producer who produced Aaron's first recording session in 1960.
Ticket Info: Purchase Tickets Online or by phone at 505-988-1234 Admission: $35/45/62
About The Lensic:
The Lensic Performing Arts Center opened as a nonprofit in 2001 following the restoration of the Lensic Theater, a cornerstone of downtown Santa Fe since 1931.
The Lensic:
Serves as a national model for a sustainable arts center—with its focus on performance, education and community programs.
Presents over 200 eclectic performances year-round, at affordable prices, delivering outstanding local, national and international talent.
Enriches public education by bringing more than 10,000 school children to the theater annually to see free performances of music, storytelling and dance.
Subsidizes local arts organizations, like the Santa Fe Concert Association, Santa Fe Symphony and Santa Fe Pro Musica by covering half of the rental fee for each group that uses the theater.
Offers its facilities to local nonprofits for free, or at a nominal cost, helping more than 160 organizations raise $1.7 million over 10 years.
Delivers best-in-class technical support capable of serving world-class organizations from traveling Broadway shows to the Moscow Ballet.
Sponsors a technical internship and scholarship program to train Northern New Mexico high school students in theatrical arts.
Serves as a home to the nonprofit Tickets Santa Fe, a community box office serving more than 35 organizations and venues.
About SantaFe.com:
SantaFe.com provides locals and visitors to Santa Fe alike the most current interactive platform for events, music, arts, business, dining and lifestyle. SantaFe.com is a division of Hutton Broadcasting, located at 2502 C. Camino Entrada, Santa Fe, NM 87507
Contact Information:
Scott Hutton
SantaFe.com / Hutton Broadcasting
http://www.santafe.com
(505) 471-1067 (Media inquiries only, please)