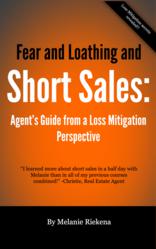 We're slowly convincing them that they can learn these skills, and I am encouraged to see so many downloading the book.
Nashville, TN (PRWEB) November 23, 2012
"Fear and Loathing and Short Sales," climbed to the top sales position within days of its November 20 release on Amazon.com. Word of its launch in the weeks leading up to its release had many people in the real estate industry ready to claim their copy.
The process of performing short sales has long been the subject of apprehension among a majority of real estate agents nationwide due largely to fear, misconceptions, and inadequate short sales training within the industry. Author Melanie Riekena used her short sales expertise to write "Fear and Loathing" as a user-friendly handbook for realtors who have been put off by the apparent inconsistencies of the process.
Riekena hopes her book, written from the loss mitigation perspective, changes the way real estate professionals view and conduct the short sale.
"I wrote Fear and Loathing" to de-mystify the short sale process because it is such an important skill to have in this industry," Riekena says. "I'm excited to see the book moving so rapidly, which tells me that my real estate industry colleagues realize how important these skills are to their portfolio.
"The biggest obstacle industry-wide has been convincing real estate agents to embrace the uniqueness of selling real estate through short sales, or bank negotiations. There is new territory in our industry that will not be so daunting, once properly understood.
"With this book I'm basically telling them, 'Look, in the finance world this is not a real estate transaction; this is a loan settlement," Riekena says. "Learning about the world of loan settlement is not beyond the scope of your license, it is required in today's market to serve the consumer. When you become adept at settling loans your close rate is much higher, and you can approach the short sale with appropriate confidence.
"I am encouraging them not to just take the title 'Short Sale Specialist,' but to cross slightly and gain an understanding of loss mitigation, so they are equipped with solid, .day-winning advocacy for their clients.
"Those real estate professionals who choose to 'niche' themselves in order to assist with short sales will experience almost instant elevation in their desirability and profits," Riekena says. "My book was written expressly to help them achieve high results, and from that the professional status they deserve."
For almost 20 years, Riekena and a team of professionals have helped thousands of clients settle defaulted or imminently defaulting home loans, earning herself a reputation as a master of the short sale. And although she enjoyed her success and accomplishments as one of a small percentage of real estate pros with the knowledge and experience to work in this under-served sub-market, Riekena couldn't overcome the frustration of seeing so many colleagues feeling too intimidated by the process to try learning it.
"I have wanted to write this book for a long time so I could share my knowledge in a way that would put their fears to rest," she says. "I see a sincere concern and desire on the part of many real estate agents to assist the public who so desperately need their help.
"Short sales are associated with extra work, elevated risk of failure, and reduced pay on many of the transactions that close successfully; hence the nationwide 'fear and loathing' they provoke," Riekena says. "But we're slowly convincing them that they can learn these skills, and I am encouraged to see so many downloading the book."
Fear and Loathing and the Short Sale" will remain available as a free Amazon.com Kindle download through mid-day, November 24.
For more information, go to Amazon.com/ Fear-Loathing-Short-Sales-ebook, or visit the "Fear and Loathing and Short Sales" Facebook page.
###