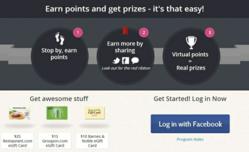 Ottawa, ON (PRWEB) November 23, 2012
Buy Real Marketing, the leading provider of web 2.0 business applications and social media solutions, launches their very own Loyalty Program that rewards participants with eGift cards when they earned specific points by liking, tweeting and sharing the content posts from the Buy Real Marketing blog.
Powered by Punchtab, the world's first instant loyalty platform that helps company host successful loyalty programs, the rewards and incentives will leave participants rushing to earn as many points as they can to redeem the eGifts. Badges are also part of the reward system that can boost players' status on the leader board.
How does it work on Buy Real Marketing? Daily points are earned when players:
1. Visit the website's blog at http://www.buyrealmarketing.com/blog
2. Add the loyalty program to timeline
3. Share, like and retweet any article posts on the page
Loyalty programs such as this help companies to incentivize their visitors and get them to engage, interact and share their content. Buy Real Marketing has taken the next necessary step to build a stronger bond with its clients and attract other potential buyers out from the daily visitors on the website. Together with Punchtab, the company aims to give more value not only to their clients but also to the people who visits the website for updates.
Social media has been a partner of online businesses when it comes to spreading the news all throughout the cyberspace. The fun and interactive way that these social networking websites are structured has made online communication and public relations way easier. This proves true to Buy Real Marketing especially with the kind of services they are offering to the online community.
Buy Real Marketing has built a strong and stable foundation of a company that focused on helping clients get traction online through social media marketing. They have catered to over 30,000 clients who are hoping to get visibility and enough publicity to push through business branding and popularity.
Among the services offered are Twitter followers, YouTube views, SoundCloud plays, Vimeo views, Pinterest followers and Tumblr followers. Buy Real Marketing is the only supplier that has a 24/7 friendly customer support. All services are guaranteed with a 100% money back that is valid for 60 days after delivery.
To know more about the company's services, visit their website at http://www.buyrealmarketing.com or contact them at 1-877-435-5955 (US) or 020­3289-0222 (UK).
About
Buy Real Marketing is owned by Clicking Labs. Clicking Labs is a well-established internet marketing company founded in 2010 by Jean-Patrick Bisson, Diana Quartin and Jonathan Kennedy. The company specializes in driving search marketing and social media traffic, social web app development and conversion optimization. Each product or service specifically helps small/medium website owners increase online visibility and improve online sales.
###