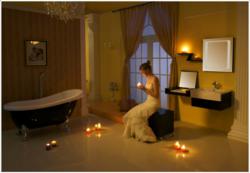 Every single unit was designed to embrace the latest trend in luxury modern bathroom design.
Allen, Texas (PRWEB) November 29, 2012
The Interior Gallery has placed its entire collection of over 60 exquisitely designed Parisian glamor bathroom vanity sets on sale. Each set is said to be unique and will appeal to a variety of customers who might be leaning towards a Parisian style for their bathroom design. The Interior Gallery promises huge savings for any set purchased from this line.
The sale brings even the most exclusive set in the range – Citrole - from $11,000 down to a very affordable $2,900. This translates to a savings of $8,100 or 74%. In general, most of the units in the collection cost under $2,000 when the discount is applied. The most affordable set – Paris IV - costs a mere $900.
The Interior Gallery iterates that the low prices for these products are due to factory direct sourcing. This results in massive savings for customers. The company also assures customers that it takes great effort to make sure that every item leaves the warehouse in the best condition possible. They accomplish this via a rigid inspection process, after which the items are repacked with industrial grade packing material and shipped directly to customers.
Every single unit was designed to embrace the latest trend in luxury modern bathroom design. This creative vanity style affords those with the intention of enhancing the look of their bathroom an easy and affordable option.
The Parisian glamor bathroom vanities collection consists of both single and double sink vanity sets. The vanity sets are made up of water resistant solid wood vanity, an elegant matching mirror or two and stylish contemporary acrylic sink design. Some vanity sets come with tempered glass countertops and super efficient and long-lasting LED illumination for the mirrors.
The accompanying bathroom cabinets are made from solid wood to the highest European quality standards. The wood is also waterproof treated and treated with an anti-aging element to ensure it maintains its character for a long time to come. The treatment also makes cleaning the sets easy.
Faucets are not usually included with the sets but The Interior Gallery have many modern faucet designs to choose from to match the chosen bathroom vanity set. Faucets may come with a solid brass core, drip-less ceramic disk cartridge and chrome finish. This combination promises both durability as well as stylish aesthetics.
All items in the Parisian glamor bathroom vanities collection can be viewed online at their web store, which is powered by the InstanteStore shopping cart software, as well as the company's massive showroom in Allen, Texas.
For more information about The Interior Gallery and their products, please visit http://www.theinteriorgallery.com.