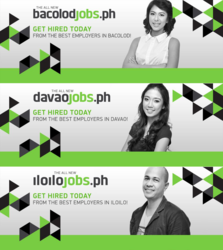 Three more job portals will be joining the ranks of CebuJobs.PH by December 8.
--Ian Callet
Cebu, CEB (PRWEB) November 26, 2012
On October 30 2012, in response to the strong demand in the Cebu market for more opportunities for jobseekers, the company behind Cebutechjobs.com rebranded the job portal to CebuJobs.PH. Staying true to its new name, CebuJobs.PH now emerges as its new entity offering a variety of Cebu jobs in different industries, while continuing its current mission and vision for the community.
Last November 21, Managing Director Ian Callet mentioned that they will be launching more portals for Central Visayas by early December.
"Three more job portals will be joining the ranks of CebuJobs.PH by December 8, specifically DavaoJobs.PH, IloiloJobs.PH and BacolodJobs.PH. We are very optimistic that our market will be excited by this expansion because we really want to help jobseekers connect with the right employer and catapult their careers. We want to promote more cities in becoming the way Cebu is today" says Marketing Director, Ian Callet.
Currently, the team behind the CebuJobs.PH is improving the site, making it as convenient and user-friendly to attract users around the Philippines. A few of the popular jobs in the job search portal are web developers, web designers, and call center jobs in Cebu, as Cebu stands as one of the leading destinations for Business Process Outsourcing (BPO).
They recently released pricing and premium options available for employers. For more information on the features of the website, an inquiry can be sent to info@cebujobs.ph. CebuJobs.PH also offers various opportunities for recruitment such as relationship and network building, candidate search, market intelligence, and recruitment news updates via social networks, SMS, and email marketing. To know more about these Cebu jobs, visit their website at http://www.cebujobs.ph.
About
CebuJobs.PH is owned by Clicking Labs, Inc. Clicking Labs is a well established internet marketing company founded in 2010 by Jean-Patrick Bisson, Diana Quartin and Jonathan Kennedy. The company specializes in driving search marketing and social media traffic, social web app development and conversion optimization. Each product or service specifically helps small/medium website owners increase online visibility and improve online sales.