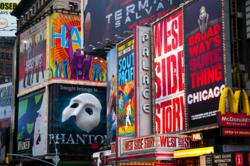 The Milford is a great New York Hotel for 3 reasons; Location, Location, Location. Everything is a within walking distance or a short taxi ride. Just great!
New York, NY (PRWEB) November 23, 2012
Visitors have numerous New York Hotels to choose from while visiting New York to attend the many New York Events in January and February 2013, and one of the most popular Times Square Hotels located in the center of all things to do in November is The Milford - A Times Square Hotel - formerly The Milford Plaza Hotel.
The Milford is has put together an amazing offer; "Room Rate + Continental Breakfast for 2 from $99 - $119.00" - details include:
Guests receive, Complimentary Continental Breakfasts for 2 Persons per Room, per Day from only $99.00 - $119.00* per night plus taxes.
Times Square's Best Hotel Room & Free Breakfast Offer + Save up to $20.00 per day!
Stay between January 2 - February 28, 2013. Limited Offer ends November 30, 2012 - Book Now >
Upcoming New York Events in January and February 2013 include:
New York Gift Fair:
When: January 26 - 30, 2013
The New York Gift Fair draws more than 35,000 attendees from across the country, as well as many international Visitors to New York, to a trade-only New York Event that hosts more than 2,800 exhibitors. Held twice yearly by GLM Shows, the New York Gift Fair showcases the very best lines and brands in Gift, Home, and Lifestyle categories.
Unlike any other Gift Fair, New York Gift Fair is organized into targeted divisions, some of which are bigger than most other gift fairs in their entirety. Each of these targeted divisions is complete with most everything you'd expect or imagine in the niche, and exhibits are carefully selected to offer the widest variety and best quality of Gift, Home, and Lifestyle items.
Mercedes-Benz Fashion Week:
When: February 7th to the 14th
February is all about love, and in New York City, an extreme love for fashion comes to the forefront at Fashion Week. The dates have been set for New York Fashion Week 2013, and the Winter Fashion Event in New York City is sure to highlight the style and glamor that is typical of New York City. In early February Manhattan Hotels, Streets in New York City, New York Restaurants, and more will be crowded with models, A-list celebrities, media moguls, designers, buyers, sellers, and everyone else in the fashion industry when New York Winter Fashion Week 2013 comes to town.
New York Toy Fair:
When: February 10 - 13, 2013
Mark your calendars for the New York Toy Fair 2013, which takes place at the Javits Convention Center in New York City. Starting on February 10th. American International Toy Fair® brings to New York City the Western Hemisphere's largest toy fair. New York is the place to come and pick up hot toys and youth products from more than 1,000 exhibiting manufacturers, importers, distributors, and sales agents. These international companies showcase their entertainment and toy products that range from classic toys and interactive entertainment to everything in between.
View many more NYC Events
About The Milford - A New York Hotel:
The Milford is located in the heart of New York City, surrounded by Times Square, the Broadway Theater District, New York Restaurants and New York Shopping, the subway and New York City Tours.
This historic New York Hotel is undergoing an extensive $140 million renovation to include each of the 1,300 Guest Rooms and Guest Suites, Lounge, Fitness Center, Lobby area and all common areas of the Times Square Hotel.
This New York Hotel is perfectly located near all the New York Activities and New York Attractions that brings visitors to New York from all the world over. Come see the best of New York and stay at The Milford Hotel – A Times Square Hotel.
View The Milford's Special Offers.
Take a Photo Tour of The Milford - A New York Hotel.
Check Rates, Make Reservations or call toll free: 888-352-3650.