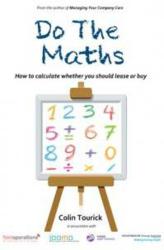 (PRWEB UK) 23 November 2012
It's an old conundrum – which is most financially advantageous?
While knowing this is critical for the financial directors of SME firms, often it's as much to do with the managing director's attitude: does one prefer usership or ownership?
From the small business owners spoken to recently, the idea of just using a car for a period of time and money is really catching on. Partly it's a cash flow thing – keeping finances fluid and flexible.
However, one man who likes to crunch the figures – seemingly for fun is Colin Tourick.
Which is just as well. We need experts. And Colin is a company car tax expert and knows how to wring an excel spreadsheet to within an inch of its life.
Colin, who as well as an excel spreadsheet is a dab-hand on word, too, has just published a brand new book entitled Do The Maths.
The book takes the reader step by step through asset finance, covering discounted cash flow (DCF) analysis and demonstrating how one can create spreadsheets to calculate finance instalment and interest rates.
In other words, whether it is better to buy or lease.
As well as this, Do The Maths includes descriptions of the main 'Purchase-type' finance agreements (outright purchase, hire purchase, conditional sale and credit sale), business car leases (contract hire, 'open-book', sale and lease back, finance lease) and other asset finance products (contract purchase, loans, bank overdrafts, ECO, schemes and salary sacrifice schemes).
Although one can buy the book as a paperback or a PDF e-book - with a downloadable file containing all of the many Excel spreadsheets shown in the book – it is available for free.
As a special offer for Business Car Manager readers all they need to do is go to http://www.tourick.com and enter the Discount Code BCM31Dec before 31 December 2012 – and they can download the PDF e-book for free.
The book, Do The Maths, is is sponsored by Volkswagen Financial Services, Fleet Operations, Jaama and Visper Asset Finance.
Business Car Manager has a variety of useful guides including the car tax calculator tool, business car advice and more Chevrolet reviews among others
For more information, visit Business car Manager at http://www.businesscarmanager.co.uk/