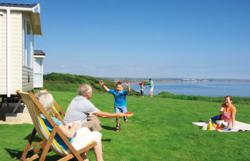 Quite often a trip by car or train is a better testing ground as a holiday together than a trip on a plane
Kent (PRWEB UK) 26 November 2012
Luggage Superstore has a few basic ideas to help grandparents make that planned holiday a good memory by getting it right from the beginning.

First always decide the destination –that way you can get more direct information pertaining to the trip rather than excess and useless unneeded information.
If possible, it is a good idea to plan the trip together with the grandchildren as there will be no doubt that the chosen destination would have been agreed on by all and therefore should be enjoyed by all. The planning together can include the activities too that would be enjoyed by all.
Quite often a trip by car or train is a better testing ground as a holiday together than a trip on a plane.
If a plane trip is definitely on the agenda, teach certain flight rules and ethics if the kids have not travelled by plane before; a good one would be not to kick the seat in front etc.
Try a short holiday together first, like overnight, then maybe a weekend and after progress to longer.
Talk to the parents as they can give useful advice and information needed to help make decisions about the grands while on holidays. Write information down to always remember .However; don't be afraid to trust your own instincts.
Always prepare the grandchildren before the trip by giving information and keeping them updated-how much information given would obviously depend on the age of the grandchildren.
One thing to consider is whether one or two grandparents would be going on the trip and how many grandchildren would be going at the same time. This can be a challenge especially with really small grandchildren. More than one adult might be necessary-take a friend along to help if you do not have a partner to travel with you or take fewer grand children on that one trip and split it into another trip with the other grandchildren.
Always get the correct document of authorisation from parents for medical treatment and for permission for the grandchildren to be travelling with you.
Travelling with grandchildren can be a great time for bonding and learning about each other. It is an opportunity that should be taken on as an adventure.
If you like our posting, just drop us a line as we would love to hear from you.
Luggage Superstore's established site is in West Kingsdown, Kent. Their aim is providing competitive prices of the highest quality luggage and top calibre Customer Service for online luggage shopping.
Trina Chee-a-kwai
Luggage Superstore
01474854666
Email Information