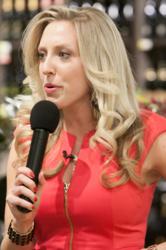 "Our fun, creative and reality based wine content is a perfect fit for the hospitality market".
Jessica Altieri - CEO, Wine Channel TV
Chicago, Illinois (PRWEB) November 26, 2012
Wine Channel TV, a WCTV Network company, announced today that it has reached agreement with CPM-PRO, LLC, to expand the distribution of its online wine programming content into the hospitality marketplace.
Wine Channel TV content will begin to appear in December 2012 in the San Francisco, Napa Valley and Sonoma markets and over the following months will reach over 500,000 hotels rooms via its own proprietary in-room channel, electronic program guide (EPG) and Wi-Fi portal pages in up to 1000 hotels, as well as access to over 5000 hotel business centers and leading US based timeshare locations.
Wine Channel TV, is a fresh, innovative broadcast destination for an already successful online community for lovers of wine, laughs, and life, hosted by Jessica Altieri. The half hour shows will feature content from locations around the world and include wine lifestyle, celebrities, chefs, winemakers, as well as fashion and music entertainers.
"Our fun, creative and reality based wine content is a perfect fit for the hospitality market", said Jessica Altieri, Founder and CEO of Wine Channel TV. "Our online Facebook community which reaches over 14 million fans has asked for broader distribution and the hospitality market provides that opportunity to reach wine lifestyle fans and affluent business travelers throughout the US."
"Wine Channel TV brings a unique, fun, fresh, female perspective to a male dominated market. The multimedia approach, TV, online, mobile, speaks to our audiences connected lifestyles, and engages them to become part of our community", added Ms. Altieri.
"CPM-PRO is excited to partner with Wine Channel TV and the exciting wine lifestyle and community" said Norm Farra, Managing Member of CPM-PRO. "Our network focuses on the world of travel, entertainment, cooking and leisure activity creating a perfect environment to showcase creative wine programming from Wine Channel TV."
For more details about advertising opportunities, contact Wine Channel TV Media at media(at)wctvnetwork(dot)com.
About WCTV Network, LLC
WCTV Network (http://www.wctvmedia.com) is a leader in building online, cable and media marketing brands in selected vertical markets. Wine Channel TV (http://www.winechanneltv.com) produces and delivers original wine content thru a converged network of online, mobile and TV programming. WCTV is headquartered in Chicago, Illinois with offices in Sonoma and New York City.
About CPM -PRO, LLC
With CPM-PRO (http://www.cpm-pro.com), reaching traveling guests with a smart technology has never been easier. CPM PRO LLC. provides a turnkey interactive information solution to the hospitality and entertainment industry, with the addition of revenue sharing opportunities. This combination allows the hospitality industry to recoup costs associated with the In-Room Entertainment Systems. Our products provide a complete advertising solution, including information that Hotel guests desire by placing Electronic Program Guide (EPG) and proprietary Revenue Producing Channels onto the existing Entertainment System.