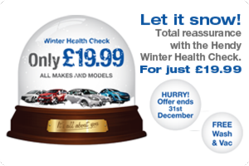 With the 'Hendy 12 Point Winter Health Check' customers can have complete peace-of-mind that their car will perform well, provided they take care on the roads
Hampshire (PRWEB UK) 23 November 2012
Anticipating the return of treacherous icy conditions on the roads this winter, it's time to ensure all vehicles are prepared for the cold months ahead.
From November, the Hendy Service team is offering its customers on the south coast a special 'Hendy 12 Point Winter Health Check' to give them peace-of-mind for their safety on the road.
"We have experienced some extreme winter weather conditions in the UK over the past few years and expect to see much of the same this year," comments Ian Davie, Service Director at the Hendy Group.
"The autumn months have already been putting cars to a severe test with downpours of heavy rain. As well as driving sensibly in icy and wet conditions, it's crucial drivers ensure their vehicle is fully prepared for winter, to help prevent avoidable accidents. With the 'Hendy 12 Point Winter Health Check' customers can have complete peace-of-mind that their car will perform well, provided they take care on the roads," adds Davie.
Hendy Service is offering to inspect the key elements of vehicles to ensure optimum safety when driving during the winter months for just £19.99. A fully trained technician will check all of the essential items including tyres and brakes as well as battery condition, coolant level and strength and wiper blades. The 'Hendy 12 Point Winter Health Check' is also different to others as a free wash 'n' vac is included too!
The service team at Hendy will also inspect the vehicle's fluid levels, shock absorbers, drive belt and lights, as well as the operation of the air-conditioning to ensure it will quickly and effectively demist the windows during cold weather.
This offer is only available until the 31st December, so check the Hendy website for more details or call the friendly service team on 0800 032 0766
Information for Editors:
Hendy Group Ltd
Chandlers Ford Industrial Estate
School Lane
Eastleigh
Hampshire
United Kingdom
SO53 4DG
Telephone: 023 8027 1271
Fax: 023 8062 7539
Hendy Group Ltd is a premier family motor group with in excess of 20 premises stretching across Southern England from Devon to West Sussex.
Hendy holds Ford, Mazda, Kia and Honda franchises, plus Ford and Iveco van and truck franchises. The company handles all aspects including sales, servicing, parts, hire, accident repairs and Rapid Fit centres. Specialist operations include Liquid Petroleum Gas conversions, engine dynamometer testing, fuel injection testing and repairs, as well as engine sales to the construction and marine industries.
Hendy was founded in 1852 and whilst having grown to a company of significant geographical and economic size, the Hendy Group remains a closely-knit family concern. Currently, both the Chairman and Deputy Chairman are great-grandsons of the company founder F.A. Hendy, with the next generation of sons and daughters within the company structure ensuring the continuity of the family business.
Throughout the company's history, the Hendy family can be said to have followed good business practice - grasping opportunities as they've appeared, reviewing operations in order to remain efficient and keeping up with manufacturers' changing demands. Above all, the Hendy family has always been careful to continue to meet the needs of customers, ensuring that they enjoy the best service and attention at all times.