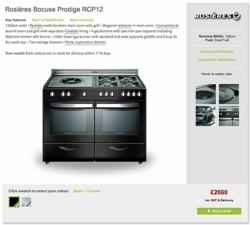 (PRWEB UK) 23 November 2012
Fans of the original Rosieres Bocuse range cooker have been waiting with baited breath for the arrival of the Prodige, an updated version of the original cooking platform. The wait is now over and the Rosieres Prodige RCP12 is now available to order online from Rangecookers.co.uk .
Finished in either black or stainless steel, the Prodige (pronounced Prodeej) takes the original model and brings it into the 21st century by way of some stylistic tweaks - steel-clad glass oven doors, broader door handles and cleaner control knobs all combine to present the cooker with a new face. The 'business side' of the cooker - the actual cooking features - remain the same much to the relief of many. The hob offers four powerful burners alongside the distinctive Rosieres coup de feu cooking surface featuring a 4.5kW burner which can be employed as a wok burner or, with the metal cover in place, a professional cooktop.
The two spacious ovens offer a pyrolytic multifunction oven on the left (something of a rarity on range cookers) with grill and rotisserie, partnered by a conventional oven on the right featuring a second grill and self cleaning catalytic lining. Two storage drawers provide ample space for pans and other cooking utensils.
A major feature is the signature adorning the fascia panel - the endorsement from Paul Bocuse, one of the finest chefs of the last hundred years, is a strong reason to bear the Prodige in mind when considering your range cooker.