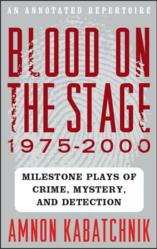 Lanham, MD (PRWEB) November 28, 2012
Scarecrow Press announces the release of Blood on the Stage, 1975-2000: Milestone Plays of Crime, Mystery, and Detection by Amnon Kabatchnik. Blood on the Stage, 1975-2000 (Hardcover, 646 pages, ISBN: 978-0-8108-8354-3, $125.00) is now available wherever fine books are sold. Blood on the Stage is also available in an eBook edition.
In Blood on the Stage, 1975-2000, Kabatchnik, an award-winning director and professor, provides an overview of 80 milestone plays of crime, mystery and detection produced in the last quarter of the twentieth century.
Featuring such works as suspense melodramas, psychological thrillers and baffling whodunits—plays revolving around murder, theft, chicanery, kidnapping, political intrigue or espionage—Blood on the Stage, 1975-2000 highlights those works of enduring importance, pioneering contributions, singular innovations, outstanding success, and representative works by prolific playwrights within the genre. Presented chronologically, each entry includes a plot synopsis, production data, opinions of well-known and respected critics and scholars.
Numerous notable playwrights, such as David Mamet, Ira Levin, Stephen Sondheim, Sam Shepard, Reginald Rose, Charles Ludlam, Aaron Sorkin, William F. Buckley Jr., Larry Gelbart, Rupert Holmes, Romulus Linney, Ariel Dorfman, Terence Rattigan, Tom Stoppard, Anthony Shaffer, Jeffrey Archer, and Andrew Lloyd Webber, are represented in Blood on the Stage, 1975-2000.
In addition, Blood on the Stage, 1975-2000 includes entries about such criminous musicals as Chicago, Assassins, Sweeney Todd, Phantom of the Opera, The Mystery of Edwin Drood, and also includes dramatizations of novels by distinguished detective story writers Arthur Conan Doyle, Edgar Wallace, Agatha Christie, Raymond Chandler, Patricia Highsmith, Simon Brett, and Walter Mosley.
Blood on the Stage, 1975-2000 continues the study of Kabatchnik's previous volumes (Blood on the Stage, 1900-1925; Blood on the Stage, 1925-1950; and Blood on the Stage,1950-1975), works which have garnered high critical praise, including:
"….a wealth of material for lovers of theatre." – Los Angeles Times
"The sheer readability of his works exceeds that of many reference books." –Reference & User Services Quarterly
"A priceless reference." – Deadly Pleasures
A comprehensive and meticulously-researched volume, Blood on the Stage, 1975-2000 examines a time period that for sheer adventure, excitement and heart-pounding thrills, may be the genre's most intriguing era.
Born in Tel Aviv, Israel, Amnon Kabatchnik received his BS degree in theatre and journalism from Boston University where he graduated summa cum laude, and won the Rodgers & Hammerstein Award. Kabatchnik also holds an MFA degree in directing from the Yale School of Drama. He served as Professor of Theatre at several universities, including Stanford University and Ohio State University, and directed numerous dramas, comedies, thrillers and musicals for off-Broadway, national road companies, resident theatres, summer stock, and abroad. In addition to the Blood on the Stage volumes, Kabatchnik is also the author of Sherlock Holmes on the Stage: A Chronological Encyclopedia of Plays Featuring the Great Detective. Visit Amnon Kabatchnik online at: http://www.amnonkabatchnik.com
Scarecrow Press is an imprint of the Rowman and Littlefield Publishing Group.
Members of the news media wishing to request additional information about Amnon Kabatchnik or the Blood on the Stage volumes are kindly asked to contact Maryglenn McCombs by phone: (615) 297-9875, or by email: maryglenn(at)maryglenn(dot)com