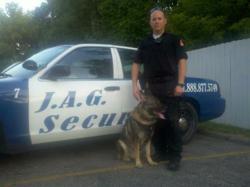 "By adding this service, it completes our security team." Gregg Woodbury CEO/President
Clarkston, Michigan (PRWEB) November 26, 2012
J.A.G. Security has added a new line of K-9 patrols to its many protection services. As a company that prides itself on providing the highest quality in security services, J.A.G feels that this new addition has taken their services up a notch by giving them the ability to provide solutions that many businesses and institutions find absolutely necessary. Whether the need is for better community policing or the specific services of narcotics detection canines or drug dogs, these services are now available from J.A.G. Security.
Many colleges and universities as well as high schools, junior high schools and private schools are dealing with issues related to firearms, illegal drugs, and so forth. Narcotics detection canines can be used to investigate and locate this type of contraband. Drug dogs are especially helpful in a variety of situations. Even parents who may be concerned about the possibility that their teen-aged children may be involved with drugs can utilize the service.
Many different types of companies may benefit from the added services of K-9 patrols or narcotics detection canines. Businesses may want added security to protect their assets. Apartment building owners may want to provide higher security for their residents. Even law enforcement groups may require the added assistance of drug dogs that are fully trained and reputable to assist in investigatory work. Any business that suspects the use or possession of illegal drugs will want to utilize the services of highly trained and effective narcotics detection canines.
K-9 patrols also bring an added measure of security to traditional security patrols. Perhaps Gregg Woodbury, CEO of J.A.G. Security, said it best when he stated, "By adding this service, it completes our security team." There is a great deal to be said for deterring crime as a major means of preventing it, and the added visual impact of a dog patrol is quite effective for those in the community policing industry. In fact, it can boost the ability of the patrol to scare off would-be criminals. More information about community policing, K-9 patrols, security, protection, and investigative services can be found at MichiganSecurityCompany.com
About the Company:
G. Woodbury & Associates, Inc. and J.A.G. Security is dedicated to providing protection, security, and investigation services to clients who are looking for services that are beyond the services normally provided by the police. Owned and operated by Gregg Woodbury, J.A.G Security provides protection and investigative services to many different types of clients. Services include Movie Theater Security, Armed and Unarmed Guards, Executive Protection, Apartment Complex Security, K-9 Patrols, and Investigative Services, among others. More information about their services can be found by visiting their website at http://www.MichiganSecurityCompany.com.
Contact Information:
Gregg Woodbury, CEO
J.A.G. Security
Phone: 248-331-9697
Website: http://www.MichiganSecurityCompany.com