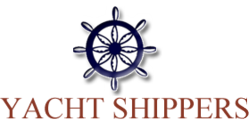 Miami, FL (PRWEB) November 24, 2012
Yacht Shippers, a marine transportation company that specializes in yacht shipping has named Jonathan Banks as its new General Manager to lead operations in the United States, based at the company's new location in Miami.
Banks comes to the U.S. from the United Kingdom, where he served as manager of Borchard Lines Ltd. boat shipping and yacht shipping company operating out of Liverpool.
With vast experience in logistics, special events and marine transportation Banks began his shipping career with DHL, rising from Customer Service Team Leader to Freight Service Supervisor. Serving as the manager of Borchard Lines Ltd. boat transportation and yacht transportation company, he developed a great understanding of the processes and the focuses of a maritime shipping and logistics company in order to maintain the highest levels of service.
"The appointment of Jonathan Banks is a testament to the quality and ability of our staff and that of our agents," said Yacht Shippers CEO David Holmes.
Born and educated in the London, Banks is a certified fitness trainer and enjoys football (soccer), cricket, rugby, and parasailing. But his leadership qualities and can-do attitude are what truly make him the perfect chap to head the management team at Yacht Shippers.
The team at Yacht Shippers Miami can be described as a spirited, dedicated, and experienced group of shipping and logistics experts who specialize in marine transportation such as worldwide boat shipping and yacht shipping. Each and every member of the staff was cherry picked out of hundreds of applicants when the company first opened a few months back. Although the interview process was long and tedious, it was well worth it to have the end result be a team of trusted, smart, experienced individuals who truly have a passion for what they do. There is no question that Mr. Banks, their new general manager, will only enhance and complement the existing team and ultimately, the client experience.
Yacht Shippers is a growing marine transportation company that specializes in worldwide boat shipping and yacht shipping. They currently offer many deluxe loading and transport options including roll-on/roll-off and lift-on/lift off loading, custom boat shipping cradle construction, premium insurance packages, and much more. Fortified by over 40 years of combined experience in the industry, they provide their clients with comprehensive boat transportation and yacht transportation services as well as logistics services to all four corners of the earth; including services all major call ports. Experts are projecting Yacht Shippers to quickly move to the forefront of the yacht transportation industry as early as next quarter.
For more information on Yacht Shippers new general manager Jonathan Banks or for more information about the boat transportation and yacht transportation services they provide, please call 561-921-8775 and speak to one of their experienced customer service representatives or visit them on the web at http://www.yachtshippers.com.