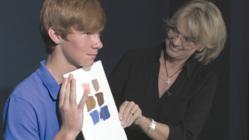 Mixing skin tones is not magic...it's a direct, logical process based on observation of your live subject.
Phoenix, AZ (PRWEB) November 25, 2012
"What color IS that?!" Portrait painters often struggle with learning how to mix accurate, convincing skin tones...artist and author Chris Saper demystifies the entire process in her video, "How to Paint Skin Tones in Oil" Preview her video on YouTube.
Artist's Network.TV, in conjunction with Artist's Network University, is excited to announce the launch of its first Art Instruction Bootcamp. Art Instruction Bootcamp Registration information is now available.
The forum will be set up in Blackboard, and students will have a chance to ask questions about Saper's style, approach, artistic vision, etc. and will receive respond to each question individually (though all participants can see all the questions and answers).
Since beginning her portrait practice in 1991, Saper has painted nearly 400 portrait commissions for families and corporations nationwide. She has authored 2 books and 4 instructional DVDs, and is an active demonstrator, lecturer and teacher.