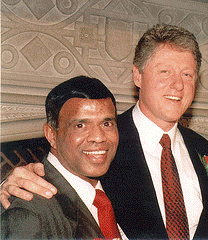 Quality Education for All
(PRWEB) November 23, 2012
Dr. Appu Kuttan, Chairman of the National Education Foundation (NEF) CyberLearning, announced today a global initiative to provide 100% tuition scholarships to a million low and middle income individuals seeking to advance their 21st century job skills. NEF is the global nonprofit leader in IT and Business online education and is also the winner of the Global Digital Literacy Champion Award given for making the most contributions globally to bridging the IT and digital divides. NEF's primary goal is to assist the unemployed, underemployed, and graduates to become gainfully employed. Workforce development can aid nations, regions and communities improve economic growth, reduce poverty and achieve sustainable development.
This initiative is in response to address the shortage of skilled workers globally. "According to the U.S. Labor Department, US alone has 13 million people looking for jobs. At the same time, US has 3 million jobs looking for qualified skilled people," states Dr. Kuttan. Such shortage of skilled workers is true in most countries. An obvious solution is to make job skills training affordable to low and middle income individuals globally in all countries. Former President Bill Clinton commended Dr. Kuttan for empowering tomorrow's leaders, stating, "I salute you for your ongoing commitment for creating a better and stronger America."
The One Million Scholarships Program offers tuition-free, high quality web-based IT (includes 60 certifications), Business, and SAT/ACT prep courses to students and adults. The course packages, each containing 100-400 courses, each valued at $400-$800, are offered tuition-free. The courses can be used to learn or improve skills or receive certifications in high-demand job areas such as Microsoft, Cisco, Adobe, CompTia, Oracle, Office Applications, Networking, Programming, Web Design, Project Management and more. See the NEF's course catalog containing 5,500 courses grouped into 65 course packages at http://www.nefuniversity.org/catalog
About NEF CyberLearning
CyberLearning, a project of the non-profit National Education Foundation, is the national non-profit leader in bridging the digital and academic divides through digital education. CyberLearning provides IT, business, management, digital literacy, STEM (Science, Technology, Engineering, Math), English and test prep education to millions of disadvantaged students and adults.