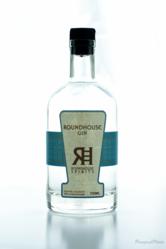 Distiller Ted Palmer uses a hand grinder to bend botanicals to his will.
Boulder, Colorado (PRWEB) November 25, 2012
Though tiny, Roundhouse Spirits has been making a big splash in the world of American gin. Its two gins, flagship Roundhouse Gin and Imperial Barrel Aged Gin, have been getting a lot of attention this year. Both gins recently won medals in the tough 2012 New York International Spirits Competition. The same thing happened last February in the 2012 Denver International Spirits Festival.
As a micro-distillery, Roundhouse hand-makes and bottles its award winning spirits in exceptionally small batches, using only the finest raw botanicals it can find. Distiller Ted Palmer leverages his 20 years of brewing and distilling experience to bend those ingredients to his will using a hand grinder, a Spanish copper still, American Oak barrels, and old fashioned ingenuity. The high elevation and clean water of Boulder, Colorado surely helps.
Flagship Roundhouse Gin starts with neutral grain spirit, which is redistilled with the traditional gin botanicals of juniper berry, coriander, citrus peel, star anise, angelica, and orris root. Sencha green tea, lavender, and hibiscus and chamomile blossoms are added to give it a distinct floral palette. Its success comes from the nuanced balance between the botanicals.
Imperial Barrel Aged Gin is a unique "brown gin" that comes across as a botanical scotch. It starts as Roundhouse Gin, which is then is aged to perfection in new American Oak casks for at least 10 months. The process introduces scotch and whiskey flavors causing our patrons to affectionately nickname it "Ginskey."
New York International Spirits Competition 2012 results posted Nov. 13th, 2012:
http://nyispiritscompetition.com/2012/11/new-york-international-spirits-competition-2012-results/
Roundhouse Gin - Silver
Imperial Barrel Aged Gin – Bronze