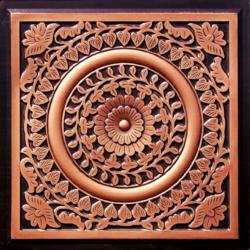 Ithaca, New York (PRWEB) November 23, 2012
Billing itself as "Ithaca's Friendly Local Game Store," The Enchanted Badger will host gatherings for live action role players (LARPers) as well as people who enjoy board, card, video, and other games.
Helping to enhance the feeling of old-fashioned camaraderie and friendship that is generated by these social activities will be the antique feeling of the "Grandma's Doilies" tiles. These lacy tiles are reminiscent of the delicate lace squares created by well-bred ladies in previous centuries, bringing an atmosphere of gentility into the modern gaming venue.
Photos of the installation can be viewed on the Decorative Ceiling Tiles website, http://www.decorativeceilingtiles.net. Because of Superstorm Sandy, The Enchanted Badger has not been able to update its website yet. There are plans to show the "friendly local game store" interior at http://www.TheEnchantedBadger.com.
The Enchanted Badger is located at 335 Elmira Rd 3A, Ithaca, NY 14850. They can be contacted at 607-319-0139 or by email at People(at)TheEnchantedBadger(dot)com.
With headquarters in Florida and distributors and installers throughout the United States and select overseas locations, DecorativeCeilingTiles.net is the online leader in the sales of decorative ceiling tiles.