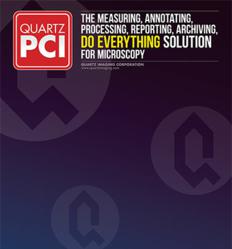 2012 has been an exciting year for new product introductions at Quartz and we're delighted to showcase them at the MRS Fall Meeting in Boston
Vancouver, BC Canada (PRWEB) November 26, 2012
Quartz PCI – Slow Scan USB Model. This is a compact external device that plugs in to a USB port on a PC and connects to the scan generator and video outputs of a SEM enabling the acquisition of digital images from analog SEMs. The USB Model is the third generation of the Slow Scan hardware first introduced in 1993.
SEM Sharpness Measurement Tool. Based on ISO standards, this new feature of Quartz PCI software, works with a single image or a group of images. SEM images can be measured regularly to monitor the performance of a SEM and a detailed report can be generated in just a few clicks. This is the latest feature of Quartz PCI. Quartz PCI has been helping microscopy labs capture, measure, annotate and process images and generate reports since 1993.
Quartz LIMS(Laboratory Information Management System) is an ideal workflow solution for microscopy labs and FA-LIMS (Failure Analysis Laboratory Information System) is the world's only LIMS system designed specifically for Semiconductor Failure Analysis Labs. Users of Quartz LIMS and FA-LIMS have reported significant time savings and improved effectiveness of their laboratory workflow. This next generation of Quartz LIMS and FA-LIMS have been improved in a number of key areas.
ON-X. The Quartz XOne EDX/EDS X-ray microanalysis system features the only Silicon Drift Detector (SDD) with integrated Take Off Angle Imaging – ON-X .....so you can see what your detector sees. The XOne system also features a high performance – low maintenance SDD, an industry leading Pulse Process with the best coincidence detection at high rates and the highest spectrum fidelity for the combination of low energies at high count rates. The PCI XOne software is feature rich and easy to use.
About Quartz Imaging Corporation – Quartz Imaging has more than 2,000 customers in 38 countries utilizing our industry leading solutions for Digital Image Acquisition and Processing (for most image producing instruments including SEMs, TEMs, STEMs, Tabletop SEMs, Cameras, PC Based Instruments, Scanners); 21 CFR Part 11 Compliance; Laboratory Information Management Systems (LIMS); Failure Analysis Lab Systems (FA-LIMS); Instrument Access Control; Instrument Remote Control; Automated Inspection Systems for Nanotechnology; X-ray Microanalysis (EDX/EDS) Systems and more. http://www.quartzimaging.com