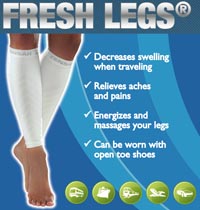 How much do we love Zensah® Leg Sleeves? Let us count the ways: travel by air, train or car; sight-seeing, walking, hiking, biking or simply standing.
Miami, FL (PRWEB) November 23, 2012
Zensah®, a compression apparel company based in Miami, Florida, has developed a line of innovative travel compression socks and leg sleeves - Fresh Legs ™, offering travelers a new and fun alternative to traditional travel compression socks. Fresh Legs ™ signature Compression Leg Sleeves eliminate calf fatigue and discomfort caused by long hours of holiday travel by stimulating oxygenated blood flow in the legs and delivering a soothing and revitalizing leg massage effect. Zensah® Fresh Legs™ Leg Sleeves are also footless, allowing them to be worn with open toe shoes and sandals. Fresh Legs™ sleeves come in several stylish colors, ranging from traditional black to neon hues, and make a fantastic gift for business travelers or anybody dealing with calf soreness.
This year, holiday travelers will face long hours standing in security lines and even longer flights. Travelers commonly face swelling and soreness in their legs after long flights due to the effect of gravity combined with inactivity. Blood circulation decreases as fluid accumulates, causing travelers to feel heaviness and pain in their legs. Fresh Legs™ by Zensah® works to stimulate the legs' oxygenated blood flow, therefore reducing the swelling and maximizing traveler comfort.
When asked about Zensah®, Susan W. Taylor of The Traveler, Inc. says "How much do we love Zensah® Leg Sleeves? Let us count the ways: travel by air, train or car; sight-seeing, walking, hiking, biking or simply standing. And, the array of color choices is almost as therapeutic!"
Zensah® is making waves in the travel industry with its innovative and fun products, designed for the weary traveler with personal flare. Travelers do not have to worry about covering up the unattractive stockings as they would with traditional compression apparel. Zensah® Fresh Legs™ Compression Leg Sleeves were designed to be shown off and to be a focal point of any outfit, and several unique colors allow wearers to express personal style while traveling in comfort. These great leg sleeves can be found in 100+ special travel goods retail shops that are members of the National Luggage Dealers Association and are located in 35 US states. The leg sleeves will also be featured for the third year in over 1.7-million travel goods holiday catalogs distributed by participating travel goods stores. For information on travel store locations please visit luggagedealers.com or the store locator on getfreshlegs.com.
About Fresh Legs™: Fresh Legs™ is an innovative travel and wellness brand developed by Zensah®. Fresh Legs™ is used by those seeking to decrease leg fatigue and enhance circulation in their lower legs. Fresh Legs™ are available in both a full compression socks and as a footless leg sleeve.
About Zensah®: Zensah®, based in Miami, is the originator of seamless compression technology and is the top choice among athletes. Zensah® is the number one selling high end compression brand in the world.
Suzanne Kerpel
marketing(at)zensah(dot)com
ZENSAH COMPRESSION APPAREL
(305) 935-4619