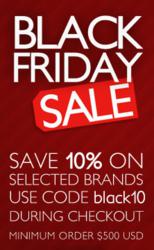 Save an extra 10% on selected brands and get Free international shipping + Top customer service from the modern lighting specialists
Tarpon Springs, FL (PRWEB) November 23, 2012
Interior-Deluxe.com announces an exclusive Black Friday weekend sale on selected luxury + modern lighting brands such as Tobias Grau, Anta, Carpyen, Serien Lighting and many more.
Discounts are now available now at Interior-Deluxe.com and will expire on Nov 25th. The sale also includes Free International shipping until the end of the month of November 2012.
Tobias Grau is available at Interior-Deluxe.com is Headquartered in Rellingen , Germany.
The most famous lamps in the Tobias Grau collection include Casino, Bill, George, Soon, Oh China. The lamps have won numerous design awards, including the Baden-Württemberg International Design Award in gold, the Baden-Württemberg International Design Award in silver, the Red Dot Design Award "best of the best", the iF Product Design Award in gold, the iF Product Design Award in silver and the Design Award of the Federal Republic of Germany in gold.
Anta: ANTA lighting is a decorative lighting manufacturer located in Schenefeld, Germany. Gertrud Kracht, the woman behind ANTA, has an infallible sense for quality and holds very close relationships with designers, allowing each ANTA lamp in the collection to speak for itself. First-class German Quality reduced to the most essential lines, comforting light, finest materials, best workmanship. Anta's most recognized light fixtures are Nil pendant light, Afra floor lamp as well as the Cut table lamp.
Carpyen lighting: The manufacturer Carpyen started in 1954 in Spain as a family business and today has grown into a business with international recognition. Founded by Antonio Carpintero and Encamacian the company was established to provide more than just lighting to its customers. Roberto Capintero joined the duo twenty years later to provide a dynamic change in the way the company designed its light fittings. Carpyen is distributed by Tango lighting for the North american market.
Serien lighting The German based brand - has its business and products spread across the globe and was founded in 1983. The company has always been known for its unique thinking in terms of designing lights. Most people will agree that lighting is done intentionally in any interior to achieve desired results whether they are to increase utility of the place, provide a warm look or add style and sophistication. Famous designers like Uwe Fischer and Yaacov Kaufman have also contributed a lot to designing lights for Serien.
Interior-Deluxe.com is also offering Free international shipping by the end of this month for every order with a minimum of $500.
About Interior-Deluxe.com
Founded in 2004, Interior-deluxe.com is a distributor of the world's finest brands in luxury lighting and Contemporary lighting solutions. The organization's clients include renowned architects, hotels, productions companies and individuals. Interior-Deluxe carries lighting solutions for every room of the house as well as outdoors. They carry an A+ rating with the Better Business Bureau and offer free insured international shipping on all orders over $500.
Contact:
Contact: Ingo Schaer
Toll Free: 866.477.1345
International Ph: +1.727.940.5812
Em: info(at)interior-deluxe(dot)com