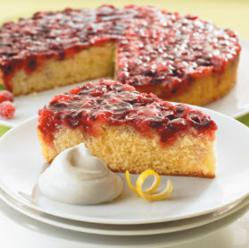 This is the best upside down cake I've ever tasted. I followed the recipe exactly as is and it always turns out perfect. A must try if you love cranberries! - Deborah, November 2012
Arden Hills, Minnesota (PRWEB) November 27, 2012
Whether entertaining guests or planning a holiday menu for family, most home cooks have a few tried and true recipes to fall back on each year, but using a new recipe or two can keep things fresh and fun. The Land O'Lakes Test Kitchens recommend their favorite holiday recipes – one for each course of a special dinner menu.
"It's always smart to have a couple of go-to appetizer recipes," advises Becky Wahlund, director of the Land O'Lakes Test Kitchen. "For beginning cooks, making a great appetizer to start off your meal or holiday party sets the tone for the entire event. If you're confident about the first course, that confidence will carry through to the rest of your cooking."
"Red Pepper Asiago Gougere Bites are perfect for holiday entertaining. They have just a bit of spice and great flavor, and people always ask for the recipe! Many cooks have left comments on our website, telling us about variations they've made to the recipe to personalize it a bit. You can make these ahead and freeze them, so they're the perfect easy appetizer." Wahlund recommends having at least one appetizer recipe like this that can be made ahead of time.
For a memorable holiday main dish, a turkey, ham or roast can take center stage. "Many cooks like to splurge on their holiday dinner, and if you like a hearty main dish, a garlic-studded Prime Rib is very easy, impressive and absolutely delicious," says Wahlund.
For a formal, sit-down dinner, a lighter salad can provide balance to heavier entrees and meaty main dishes that are popular during the holiday season. "Our Mixed Green Salad has a refreshing orange dressing and is topped with raspberries, so it looks great on a plate, too," says Wahlund.
For dessert, chocolate is usually a welcome treat, but holiday desserts frequently feature seasonal fruit as the main ingredient. "If you want something that carries the holiday theme throughout the meal, this beautiful Cranberry Upside Down Cake is flavorful and festive," suggests Wahlund. "The cranberries make the cake a bit tart, and the rich, slightly sweet Chantilly cream evens out the bright flavors of the cake."
For something bite-sized, but still satisfying, European-style cookies are perfect with coffee or tea to finish a holiday meal. "Almond Thumb Print Cookies are one of our most highly rated cookie recipes," says Wahlund. "The classic combination of shortbread and raspberry filling is timeless, and when you add a little drizzle of almond-flavored glaze, you get a special cookie you can serve on its own, and which also works well on a fancy dessert tray."
For holiday recipes and cooking and baking tips, visit Land O'Lakes.com.