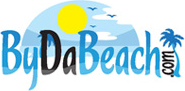 Each review tells readers which beaches offer a party paradise, and which promise romantic seclusion.
Fort Lee, NJ (PRWEB) November 23, 2012
Marble Media LLC has announced the launch of "ByDaBeach.com," a concise travel blog that invites readers to browse the world's beaches through its sun-drenched destination guide. From Miami Beach to Cape Town, South Africa, ByDaBeach.com offers comprehensive beach travel information, accessible anywhere via smart phone or tablet.
The ByDaBeach.com Destination Guide features one-minute reads that summarize each of the site's coastal getaways. Find out all you need to know to schedule a Caribbean escape or a Puerto del Carmen honeymoon. Each succinct review speaks volumes on the world's most desirable sandy playgrounds.
Each review tells readers which beaches offer a party paradise, and which promise romantic seclusion. Whether it's the beauty of Exotic Bora Bora or the splendor of the Seychelles, ByDaBeach.com offers just enough narrative to plan the perfect beach vacation.
Beach lovers heading to Dubai or Daytona can take advantage of ByDaBeach's hotel reviews. Diamond ratings, on-site amenities and proximity to the sandy stretch of coastline can make or break the best-planned beach vacation. Each hotel review provides a comprehensive account of accommodation quality to help travel planners choose wisely.
ByDaBeach.com also offers some best-kept secret beach destinations, all stateside, to satisfy the need for surf without traveling far from home. Readers can find beach gear for their travels on the site too, because what fun would a travel blog be if shopping isn't an option?
ByDaBeach.com is as handy for day trippers as it is for vacation planners, and a great escape when stranded in a grocery line. For more information, visit the ByDaBeach.com website or email info(at)ByDaBeach(dot)com.
About Marble Media LLC:
Marble Media LLC is a creator of high-quality, content-rich blog sites that provide expansive coverage of relevant information to readers who make up a wide range of demographics. The Marble Media LLC team of expert writers covers a wide range of specialties including travel, food, health, fitness, social media, marriage, parenting, technology, weight loss, fashion and much more.
For more information on Marble Media LLC's offerings and advertising opportunities, visit the MarbleMediaLLC.com website or email sales(at)marblemedia(dot)com.
###