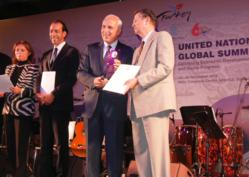 Istanbul, Turkey (PRWEB) November 27, 2012
Experiencias Xcaret, the enterprise that operates Xcaret, Xel-Há and Xplor parks, as well as a deluxe tour division at the Riviera Maya, State of Quintana Roo, Mexico, has been granted the 2012 Ulysses Award for Excellence and Innovation in Enterprises by the World Tourism Organization.
The Ulysses award is the top honor granted by the UNWTO to initiatives that have contributed to the advancement in tourism through the creation of knowledge and innovation in tourism, in line with the UNWTO Global Code of Ethics for Tourism and the UN Millennium Development Goals.
According to the UNWTO resolution, Experiencias Xcaret was selected as an example that the sustainable use of natural resources is perfectly compatible with tourism development, thus contributing to the conservation of the natural and cultural heritage of Quintana Roo. It is the first 100% Mexican company to receive this international award.
Experiencias Xcaret group owns land throughout the Riviera Maya, in the Mexican state of Quintana Roo, all of which has been turned into eco-archaeological parks benefiting visitors, employees and local communities alike. The group's longstanding commitment to sustainability is often cited as a leading example of how tourism can protect land from other less sustainable uses, says the resolution by a group of expert judges.
With the opening of Xcaret park in 1990, a model of sustainable tourist recreation emerged in Quintana Roo, that favors the preservation and care for natural resources, customs and traditions of a country over the exploitation of the land for tourism development in the traditional way.
More than 22 years later this concept has materialized into 3 Parks that welcome more than 2 million, 100 thousand visitors per year and have transcended beyond having purely good business practices they also have a positive influence in the preservation of the natural and cultural heritage of Mexico as well as in the improvement in the living conditions of the region where they are located.
The sea turtle and red macaw protection and preservation programs, the recovery of pre-Hispanic musical instruments, the revival of the Mayan ball game and the Purépecha fire ball game, the production and distribution of Mexican music recordings with songs representing every region of Mexico, regional dances and cuisine, are among the good practices acknowledged by the award which together create a model of preservation and diffusion of the natural and cultural heritage of Quintana Roo and Mexico.
Besides the Ulysses prize for Excellence and Innovation in Enterprises granted to Experiencias Xcaret, the UNWTO also granted awards to the following categories: Innovation in Research and Technology, Non-Governmental Organizations, as well as Public Policy and Governance.
For further information please contact:
Iliana Rodríguez
Chief Communications Officer
irodriguez(at)experienciasxcaret(dot)com(dot)mx
Mobile: 044 (998) 845-5644