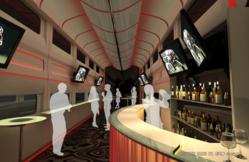 "This is such a great project for LA and Vegas, we know listeners are going to get a lot of their questions answered."
Las Vegas, Nevada (PRWEB) November 24, 2012
The Success City Radio Show, a part of http://www.SuccessCityOnline.com showcases entrepreneurs and shares success stories with listeners via the internet. The X Train project brings the city of Los Angeles and Las Vegas closer together as travel between the two communities has long been plagued with a dangerous drive on the I15, potential traffic jams, delays and the stress of flying. Overall it has been no fun. The Vegas X Train promises to fix all of that and more by providing weekend travelers with luxury rail travel, first class food and beverage and a Vegas style environment in which to enjoy the trip, both ways.
The project has made significant developments in recent days including signing an historic agreement with rail giant Union Pacific and purchasing multiple rail cars which are to be refurbished into a "Vegas" style experience for passengers traveling between the two cities. "Hearing about the train from Mike directly is going to be great," states Mick Bailey, co-host of the Success City Radio Show. "This is such a great project for LA and Vegas, we know listeners are going to get a lot of their questions answered."
The questions many are asking include: how this train will be affected by the high speed rail projects that have long been talked about, when service will begin, how much will it cost and more. Both train and travel enthusiasts alike will be able to engage in the conversation as the show hosts answer questions from the chat room and may take callers if time allows.
Mick and Maria Bailey host the "Success City Radio Show" Tuesday evenings at 5pm Pacific Standard Time. The couple are small business owners who promote "the Courage of the Entrepreneur." They publish Success City Online.com in Henderson NV and routinely interview entrepreneurs, authors and national politicians and other public figures. "The Success City Radio Show is broadcast live and callers are welcome to join the conversation during the show by calling (347) 857-2671. This Internet talk show streams live from Blogtalkradio.com/success-city and simultaneously at the Success City Online website. An archive will be available at the same link immediately following the show or listeners can subscribe to the archives via the RSS feed located on the show hosts page. Podcasts can be found on iTunes by searching "podcasts" for "Success City Radio Show". Read more about the Success City Radio Show at Success City Online.
Contact:
Maria Bailey
Success City Online
2505 Anthem Village Drive
Suite E, P O Box E-136
Henderson NV 89052
Phone: 702 350 2870
http://www.successcityonline.com