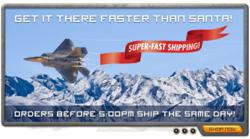 Airsoft guns are going to be a very hot gift for teenage boys this Christmas, along with all the accessories and tactical gear that go along with them.
Atlanta, GA (PRWEB) November 24, 2012
Cyber Monday sales are upon Airsoft Atlanta this busy weekend. The warehouse crew is actively working through the weekend to securely package and ship orders placed by customers since this past Wednesday. "With UPS closed Thanksgiving and Friday, it delays most of our orders from being shipped until Monday," says Eric Barnes, a salesperson at Airsoft Atlanta. "Airsoft guns are going to be a very hot gift for teenage boys this Christmas, along with all the accessories and tactical gear that go along with them."
Top Christmas airsoft gifts are mostly coming from gun makers such as G&G, a producer of some of the best AEGs. An AEG is an Automatic Electric Gun, or electric rifle, that shoots 6mm plastic BBs. It's powered by a rechargeable battery, so it doesn't take co2 gas, or other expensive refill options. A simple wall outlet and charger is all it takes to make a gun shoot ammo for an entire day. Relatively cheap to operate compared to real guns or paintball markers. Airsoft ammo is also pretty inexpensive, at only $10 for around 4000 rounds. Other well regarded guns this year are from manufacturers such as KWA, Tokyo Marui, and Echo 1.
Another popular airsoft gun style among active players are new sniper rifles. Most of the airsoft sniper rifles are spring powered, requiring no gas or electric power to shoot. They require spring power from pulling the bolt back, the BB being held in place until ready to fire, and then released with a simple trigger pull. Sniper rifles are very fun to play with, along with customizing for use on the field. A lot of airsoft technicians will build custom rifles to their own specifications. With thousands of custom rifle parts available, the possibilities for a variety of rifles are endless.
Tactical gear and other accessories are also going to be very popular this year. NCStar, a manufacturer based out of Los Angeles, just released a new tactical vest made for kids. Until now, all nylon tactical vests have been made for full sized adults, so a children's size is a must-have for younger boys. NCStar also has some popular rifle bags for around $20 that will hold most airsoft guns and carbines. Airsoft Atlanta also specializes in real tactical gear by Mechanix gloves, Condor Tactical, Blackhawk, and many more manufacturers.
Safety for airsoft guns must also be observed this holiday season. Use airsoft products only with parent's supervision, on safe private property, with proper eye protection on at all times. Display and use of airsoft products in public should also be discouraged for legal reasons. Airsoft is a very safe sport if done within confines of a professional field, with adults involved in the game. Airsoft safety masks are suitable for most playing fields, with a full face seal for protection.
Airsoft Atlanta is a highly experienced pro-shop company that offers airsoft guns and ammunition to government agencies and consumer players of the sport. Their website offers a selection of guns and expertise that is perfect for any budget. Attention and care are given to all orders and recommendations based on past experiences for airsoft usage. Airsoft Atlanta is the leader in online airsoft sales, with a large showroom in Georgia, and a website specializing in airsoft parts, airsoft guns, and tactical gear.