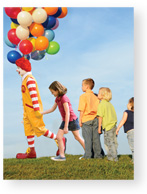 Long Island, NY (PRWEB) November 26, 2012
Mainstream Entertainment Group Inc., a leader in video production and marketing, located in Long Island, New York, will be filming at 29th Anniversary Celebration for the Long Island Chapter of Ronald McDonald House Charities. "We will also be giving away a $600 video package to one lucky family," says Cory Poccia, Mainstream's CEO.
At the event, enjoy music, holiday cheer and superb cuisine at one of New York City's most distinguished venues - the breathtaking Terrace on the Park located at Flushing Meadows Corona Park, site of New York's two World's Fairs. The event will begin at noon on Sunday, December 9, 2012. Fun for the whole family is guaranteed!
For more information about the event, go to http://www.rmhlongisland.org. For more information about Mainstream Entertainment Group Inc., go to http://www.mainstreamonline.net