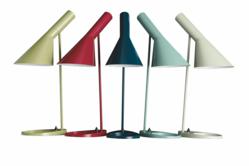 Tarpon Springs, FL (PRWEB) November 25, 2012
Louis Poulsen supplier Lighting55.com announces expansion of classic modern lighting collection
Louis Poulsen commemorates the 50-year anniversary of Arne Jacobsen's iconic AJ lamps with the launch of 5 new colors based on Jacobsen's color concept. Each variant is there for our clients to experience in 5 separate rooms at the Radisson Blu Royal Hotel, Copenhagen. A living monument to this design legacy.
The AJ series is featured by glare free and channeled light. Each fixture has an adjustable head angle. All AJ lights are ideal working lights. The light design makes the fixture easy to move and adjustable. AJ features an iconic design + architectural versatility. These fixtures are available in several new colors and belongs to a family of wall and table lamps. The overall concept of AJ is
The fixture emits downward directed light. The angle of the shade can be adjusted to optimize the perfect light distribution. The shade is painted white on the inside to ensure a soft comfortable light.
The AJ series now comes in the following colors:
Blue/Green, petroleum, red, sand, yellow/green, black, graphite grey or white, wet painted.
Story behind the product
Danish designer Arne Jacobsen designed AJ in 1960 for the SAS Royal Hotel in Copenhagen (Radisson Blu). The light contributed to the total design concept of the hotel. Several of the hotels items have achieved iconic design status today, and among the lighting products the AJ lamps in particular have become world renowned. Louis Poulsen introduced new color variants were in connection with the 50th anniversary of the launch of the AJ family. The new colors have been carefully chosen in line with an updated Arne Jacobsen color scheme.
Ingo Schaer, President of Lighting55.com stated, "Louis Poulsen light fixtures are known for there glare free lighting concept as well as first class quality and versatility"
In addition to Louis Poulsen products, Lighting55 offers a wide variety of high-end light fixtures including contemporary outdoor lighting and modern lights. Ingo Schaer goes on to say, "We carry a full product line including the most distinguished brands including Louis Poulsen, Masiero, Vistosi, Flos and more. As a convenience to our customers, our website features an interactive lighting tool that helps them choose the perfect product for anywhere inside or outside of their home or business. We also provide free worldwide shipping on all orders of $500 or more."
About Lighting55.com
For over 15 years, Lighting55.com has been providing traditional and contemporary Italian and modern lighting solutions. Their clients include individual homeowners, interior designers, contractors and corporations. Some of their current clients include Twentieth Century Fox, Macy's, Deutsche Bank and the Cosmopolitan Las Vegas. Lighting55.com is a division of Euro Lights & Electric Group Inc. headquartered in Tarpon Springs, FL with warehouses in the United States and Germany.
###
Contact
Ingo Schaer
+1 (877) 757 7936
http://www.lighting55.com