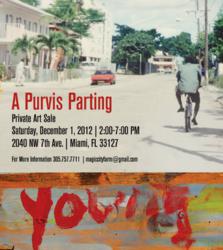 I paint what I see, and what I see is the truth." --Purvis Young
Miami, FL (PRWEB) November 26, 2012
In anticipation of Art Basel Miami Beach 2012, approximately 200 paintings, drawings, and sketchbooks by Purvis Young will be available for sale from folk and outsider art collector Tamara Hendershot's private collection.
Purvis Young (Feb. 4, 1943–April 20, 2010) was an American artist who was born and raised in Miami, Florida's Overtown neighborhood. Young's work, often a blend of collage and painting, utilizes found objects and the experience of African-Americans in the South. A self-taught artist, Young was heard to say he learned how to paint from a guard in Raiford State Prison.
Many of Young's paintings and drawings depict the people of Miami. He blended wild horses, jazz singers, and scenes from ancient battles, making poignant social commentaries on urban life. Purvis Young transformed junk—discarded school books and business forms, parts of abandoned buildings, broken packing materials, sandwich signs, furniture, old linoleum tiles, and anything found on the streets to which paint could be applied—into art that has been hung in the Corcoran and the New Orleans Museum of Art as well as other galleries, museums, and private collections on two continents.
In a 1998 interview with Jeffrey Knapp, the late outsider-art scholar from Florida International University, Purvis Young said, "It takes a lifetime to try and tell a story sometimes. I've lived here my whole life and I've been painting as long as I can remember. It's hard here, dangerous, drugs and killings, but this is my environment, I'm used to it. I know the gutter and these people don't scare me, but it's hard. Most days I stay inside and paint…I paint what I see, and what I see is the truth."
Hendershot represented Purvis Young at Vanity Novelty Garden, her now-closed Miami gallery, and was a personal friend of the artist for many years. Most of the work in her collection was sold to her over the course of their friendship; a large number of pieces have never been photographed or shown publicly.
Purvis Young's work is included in the private collections of several notable people, including Damon Wayans and Dan Aykroyd. His art is also found in collections at the American Folk Art Museum, the Corcoran Gallery of Art, the High Museum of Art, the National Museum of African American History and Culture, and the Philadelphia Museum of Art, among others. In 2006, a documentary (Purvis of Overtown) was produced about Young's life and work.
Keywords: contemporary art, art brut, urban art, outsider art, painting, installation, sculpture, mixed-media, self-taught, folk art, Purvis Young, Tamara Hendershot, Vanity Novelty Garden, Jeffrey Knapp, Overtown, Miami, Florida,
The sale will be held at the Feinberg Warehouse, 2040 NW 7th Avenue, Miami, Florida, 33127 on Dec. 1, 2012 from 2–7 pm. To RSVP, email magiccityfarm(at)gmail(dot)com. Pre-sales are available by appointment only.
For press inquiries and high resolution photos, please contact:
Heidi Rettig
PR Consultant
305-804-2194
heidirettig(at)gmail(dot)com