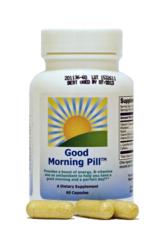 "I needed something that was natural, non jittery, something that was able to help me concentrate better and not allowing you to crash the next day. This super pill is amazing." -Amazon.com Customer Review
New York, NY (PRWEB) November 24, 2012
In late 2011, Perfect Day Nutrition launched the Good Morning Pill - the first true alternative to energy shots or energy drinks. The Good Morning Pill offers a natural, sustained boost of energy with vitamins and nutrients that stimulate the metabolism and promote overall health. In just one year, thousands of consumers have tried the Good Morning Pill, and high customer satisfaction is evident in the 4.5-star product rating on Amazon.com. Customers have noted the high-performance and exceptional cost savings; one stated, ""I needed something that was natural, non jittery, something that was able to help me concentrate better and not allowing you to crash the next day. This super pill is amazing." Another customer commented that: "One pill is enough for me to feel energized early in the morning. I also feel more focused and alert."
Most importantly, the Good Morning Pill saves consumers up to 90% versus the cost of Red Bull, Monster, 5 Hour Energy, or similar energy drinks or energy shots while still providing the long-lasting energy that consumers need. In fact, by substituting the Good Morning Pill for an energy drink or shot, consumers can save up to $1,000 per year.
Now, Perfect Day Nutrition has launched a second product, the GMP Turbo. The GMP Turbo builds upon the proven Good Morning Pill formula while providing an even stronger and longer lasting boost of energy. Customers have given the GMP Turbo a 5-star rating on Amazon.com. The 200-milligram caffeine boost is comparable to a large coffee, energy drink, or extra strength energy shot.
Perfect Day Nutrition is offering consumers an even greater savings by reducing prices by up to 50% on Black Friday, Cyber Monday, and throughout the holiday season. Sample-sized bottles (15 capusles) are available for $10 or less, allowing consumers to try the Good Morning Pill or GMP Turbo for two weeks for the price of just a few energy drinks. In larger quantities, the Good Morning Pill is available for as little as 25 cents per serving.
Please visit Perfect Day Nutrition's Amazon.com storefront for the lowest prices and quickest shipping options (and all products qualify for Amazon's free Prime and Super-Saver shipping). Smaller sample sizes (starting at just $2.50) are available at the Good Morning Pill's website.
_______________________
Perfect Day Nutrition was founded in 2011 with the goal of providing consumers with affordable health supplements. The company was founded in Pittsburgh, PA, and is headquartered outside of Philadelphia, PA. All Perfect Day Nutrition products are manufactured in the USA.