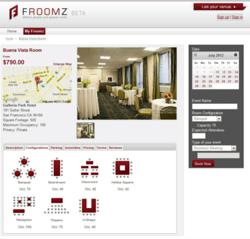 How about wine-tasting, ballroom dance workshops, beers & billiards, cheese making or a karaoke-thon to take the place of the typical office party or family gathering?
Berkeley, CA (PRWEB) November 24, 2012
Looking for a San Francisco event space to host a holiday party this season? Froomz.com is the Bay Area's top resource for navigating through the vast array of venue locations according to budget, party size, desired accommodations and taste. Froomz boasts some of the Bay Area's more non-traditional and unique event spaces from boutiques, art galleries and museums as well as banquet halls and conference rooms.
"How about wine-tasting, ballroom dance workshops, beers & billiards, cheese making or a karaoke-thon to take the place of the typical office party or family gathering? ,"said VP of Marketing at Froomz, Christina Dunham. "Froomz has all of this and more at your fingertips. The possibilities are only limited by your imagination."
Froomz.com has a direct, opt-in relationship with each venue listed on its site. This enables Froomz to keep all listings in real time and complete with accurate up-to-date information. Venue accommodations and availability are subject to change by the hour. Froomz doesn't simply scrape information from venue websites, they work with the venue to create the most productive environment for seeking out and booking the appropriate event space.
For those on a tight budget, Froomz recommends mid-week cocktail parties at funky art galleries versus lavish sit-down dinners. For those that prefer more traditional four-course celebrations, many event venues offer weekday discounts , a free case of wine or complimentary hot cocoa and dessert when booking under certain circumstances. It pays to shop around for the most ideal holiday party venue.
Yan Heim, CEO of Froomz adds, "There are also several venues that are throwing public parties like Wine Maker Dinners, Wednesday Night Mixers or Jazz Nights with live bands, starting at only $10 per guest. If you have a small group, how about purchasing a block of tickets to the event and leaving the planning and logistics to someone else?"
One of Froomz' recommended events this season is a holiday trunk show on Saturday, December 1 at Appleblom Jewelry featuring Rhoma Young Antiques. Delectable appetizers and cocktails will be served and guests are urged to take advantage of exclusive price reductions and raffles, unique to this event alone. This event is free and open to the public but is limited to the first 60 registered guests. Find out more information and register for the event here.
Froomz.com saves event planners days of work by streamlining venue information all in one place from date and time availability, locale, food and drink options, to pre-party set-up and cleanup afterwards. "Froomz features over 400 SF Bay Area event spaces on our site, including several galleries , lofts and warehouses to cooking schools and wine cellars, in addition to venues like the SS Jeremiah O'Brien , Payne Mansion and the Commonwealth Club. And if you can't find what you're looking for on our site, one of our team members can quickly step in to assist with your search, at no charge to you. Just let us know what , where and when and we're happy to help," beams Yan.
For more information about San Francisco event space rental portal Froomz and their ability to individualize their services for event planners and venue providers, please visit http://www.froomz.com or call 1 (800) 963-9248.
About Froomz:
Froomz connects people and spaces, enabling meeting and event planners - and everyone else in between - to search, sort and compare spaces in our marketplace; select and book venues in real time; as well as share events with colleagues, family and friends. Froomz features direct relationships with San Francisco party venues, San Francisco meeting spaces and San Francisco banquet rooms just to name a few. The online event space management system specializes in finding unique venues such as art galleries, museums, photography studios, clubs, bars and restaurants to meet the needs of event planners looking for the perfect place to hold a gathering. It serves as a database that anyone can access for up-to-the-minute information on pricing, availability, and accommodations. Froomz accommodates a variety of rental options, from hourly and daily rates, flat fee packages, food and beverage bundles to per attendee pricing.